API economy is the exposure of an organization's digital services and assets through application programming interfaces (APIs) in a controlled way. In this context, the word "economy" refers to the careful management of available resources and the term API economy can be used as a synonym for API management.
Content Continues Below

Download this free guide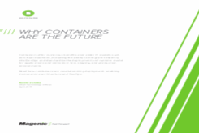 Free Download: Why Containers are the Future
In this white paper, you'll learn how containers are revolutionizing deployment, enabling microservice architecture and DevOps.
APIs ensure that the data extracted from one software application is formatted and passed to the next application without change, even if the associated app's feature sets have been updated. While API tools have always played an important role in software development, today's demand for data integration has been encouraging vendors of all sizes to "go modular" and break complex software components down into smaller, containerized components called microservices.
By exposing the interfaces that allow microservices to communicate with each other, vendors are able to meet the needs of specific groups of customers without having to rearchitect software; it also gives customers more control over vendor applications.
Experts predict that as software developers see the economic advantages of integration, many large, monolithic software systems currently supported on premises will decompose into highly-organized sets of microservices available in the cloud.
The ultimate goal of API economy is to facilitate the creation of user-focused apps that support line of business (LOB) goals and improve workforce throughput. As managers look for creative ways to monetize services and assets through APIs, it is expected that vendors will need to make API management simpler to accommodate the needs of the citizen (non-technical) developer in low-code software development environments.
This was last updated in
August 2018
Continue Reading About API economy