Definition
BSA | The Software Alliance
BSA | The Software Alliance is an advocate for public policies that foster technology innovation and drive economic growth. BSA's policy team works with governments and public stakeholders across the globe to provide the support that companies need to deal with issues such as data sovereignty, data privacy, data security, intellectual property and fair trade in a digital economy.
For much of its history, BSA has been perceived as an enforcement organization that targeted software pirates and sought financial settlements. The organization has evolved, however, and now focuses on helping to educate companies and individuals about policies that:
Content Continues Below

Download this free guide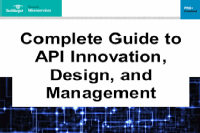 Your Complete Guide to API Design and Management
APIs allow organizations new and old, large and small to drastically improve the speed and efficiency of their operations, but getting to this point with APIs can be difficult. Read this guide to learn our experts' best practices for designing and managing APIs.
Allow the free flow of data across borders.
Avoid requirements for data services to store data locally.
Advocate a balanced approach to privacy and security issues.
Advance intellectual property policies that are comprehensive and enforceable.
Open global markets to digital trade and mitigate market access barriers for the software industry.
Encourage a level playing field by promoting procurement policies that are fair and non-discriminatory.
BSA conducts and releases a number studies and reports related to the software industry, including the Global Software Survey, which estimates the volume and value of unlicensed software installed on personal computers in countries around the world -- as well as the Global Cloud Computing Scorecard, which ranks the cloud computing readiness of 24 countries. BSA's compliance and enforcement team ensures that member companies' innovations are fully licensed and that end users understand the benefits of legitimate software. Each year, BSA investigates thousands of unlicensed software cases which harms software publishers and their brand and exposes customers to a wide range of risk.
BSA is headquartered in Washington, DC and has offices, staff, and active operations in more than 60 countries around the world. BSA's members include: Adobe, ANSYS, Apple, Autodesk, Bentley Systems, CA Technologies, CNC/Mastercam, DataStax, Dell, IBM, Intuit, Microsoft, Minitab, Oracle, salesforce.com, SAS, Siemens PLM, Splunk, Symantec, The MathWorks, Trend Micro, Trimble and Workday.
This was last updated in
March 2017
Continue Reading About BSA | The Software Alliance