Definition
EAI (enterprise application integration)
Enterprise application integration (EAI) is the task of uniting the databases and workflows associated with business applications to ensure that the business uses the information consistently and that changes to core business data made by one application are correctly reflected in others.
Content Continues Below

Download this free guide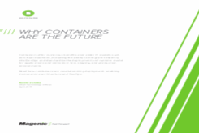 Free Download: Why Containers are the Future
In this white paper, you'll learn how containers are revolutionizing deployment, enabling microservice architecture and DevOps.
Importance of EAI
EAI initiatives can either be driven by or drive changes in both these areas. New applications may require new database and workflow connections, and a general business decision to adopt application modernization, cloud computing or business process modernization will typically involve EAI changes to both areas. The most common drivers of EAI are a desire to support mobile workers, organizational goals to optimize internet and e-commerce use and efforts to fully exploit cloud computing.
Database and workflow integration
Database integration is usually the easier of the two EAI areas to address because most businesses have been evolving toward a common database repository strategy and utilizing data deduplication tools to spot redundant, nonintegrated data storage practices. The key to EAI success in database integration is to establish a strong common repository or big data architecture that offers policy controls for access to key information. Data security techniques are critical in order to isolate critical business data, comply with government regulations and stay in line with internal audit governance policies.
Workflow integration in EAI has traditionally been based on application program interface (API) catalogs and directories, message queues or service buses. Because different software utilizes different APIs and data formats, organizations may require tools to harmonize the data structures of these interfaces if there are no such facilities in the API brokers or buses themselves.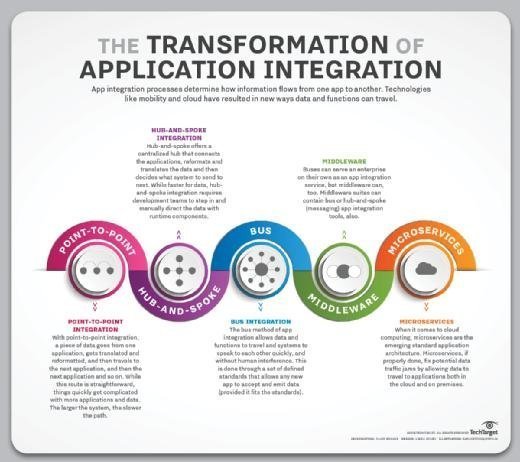 Two new developments have affected EAI workflow. First, componentization and shared component technologies, including microservices, offer an opportunity to compose applications from standard components. This reduces the burden of workflow integration because common applications use the same interfaces. Second, many enterprises use platform as a service (PaaS) for workflow integration. That means enterprises establish a standard set of APIs for application and component connection and use them for current and new applications. In the short term, PaaS-modeled EAI is more work because it covers the entire enterprise application spectrum. However, in the long term, it can reduce integration efforts during application additions, deletions and changes.
EAI and serverless
Serverless computing, the third emerging development, has actually complicated EAI. Serverless applications and components are event-driven and don't even have the same kinds of traditional interfaces or database relationships as traditional applications. An internet of things (IoT) application is an example of an event-driven use case that is a candidate for serverless computing. Widespread IoT adoption could force more enterprises to formalize companywide EAI frameworks to avoid an avalanche of new integration problems. Fortunately, the componentization and PaaS models of workflow integration are adaptable to serverless and event-driven applications.
EAI and EA modeling
When EAI is driven by broad initiatives, like application modernization or business process reengineering, there are compelling benefits associated with using enterprise architecture modeling techniques. That modeling can be used to identify common business processes, data dependencies and workflow requirements. This data can supplement the information available from current application, data and workflow integration practices, ensuring that EAI goals are met for the redesigned enterprise process set.
This was last updated in
February 2018
Continue Reading About EAI (enterprise application integration)
Dig Deeper on Enterprise application integration