Definition
non-virtual hosting
Also see virtual hosting.
Non-virtual hosting is offering to host a Web site for an Internet user or company within the same domain name as that of the service provider. Frequently, this kind of hosting provides the customer with a free Web site with the provision that the user's Web pages will contain a certain amount of advertising. Depending on how the hosting company implements their service, the user's Web site address may be a subdomain of the hosting site or, more typically, within a file directory name sequence that is part of the hosting site's domain name. For example, Joe Smith's Web site might be at www.thehost.com/JoeSmith/.
In addition to carrying on your pages ad banners over which you have no control, a non-virtual hosted Web site may be required to conform to an overall design pattern and to carry the logo of the hosting company.
Content Continues Below

Download this free guide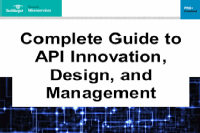 Your Complete Guide to API Design and Management
APIs allow organizations new and old, large and small to drastically improve the speed and efficiency of their operations, but getting to this point with APIs can be difficult. Read this guide to learn our experts' best practices for designing and managing APIs.
Geocities and Tripod are two of the largest companies that provide non-virtual hosting.
This was last updated in
September 2006