 BACKGROUND IMAGE: iSTOCK/GETTY IMAGES
Manage
Learn to apply best practices and optimize your operations.
At OOCL, event processing system targets all the ships at sea
App dev lead Matt Rosen builds a real-time processing system to track a container company's fleet of ships, opening ways to cost-effective decisions.
Orient Overseas Container Line Ltd.'s Information System Development Center on Zanker Road in San Jose is many miles from the Pacific Ocean, where the Hong-Kong-based company's ships are constantly cruising. They carry steel and aluminum containers that transfer to trains, trucks and trailers as part of the staccato dance of modern commerce.
But the activity of the Orient Overseas Container Line (OOCL) development team on this historic Silicon Valley boulevard is an integral part of the complex, global shipping operation. There in San Jose, Matt Rosen, director, application development, worked with teams to orchestrate new event processing systems that connect OOCL business leaders to ships and ports in its far-flung operations.
The systems allow managers to look, ship by ship, to see how many containers are going to come through any facility at a given time, how many containers are going to discharge per ship, where cargo is in terms of all-important clearance releases, and more. The point, of course, is to be successful and profitable.
"A good portion of our success is due to our IT solutions," Rosen said. "We can tell what the contribution to the bottom line will be on a shipment before we do it. That is because we have a good understanding of our costs." This gives an edge in the challenging shipping world.
In fact, through tough going, OOLC has done remarkably well. Industry trade publication American Shipper marked OOLC as the best-performing publicly traded carrier from 2007 to 2011, banking $1.6 billion in operating profits through that period, which was as storm-tossed as any in recorded economic history. IT's work on the event processing system has had a role in this favorable outcome.
Adding process automation
To fashion an event-oriented system to effectively track complex operations required a blending of many technologies and some periods of trial and error. It meant, as well, a move away from conventional client/server architecture.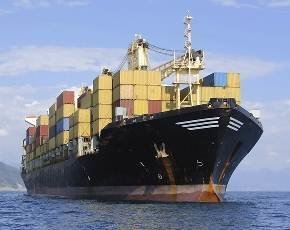 Event processing systems track ships at sea.
Rosen and his colleagues used many levels of Java middleware to connect the ships at sea with the computers at home. At the same time, they fashioned software to connect systems to track and react to business events. SOA was often a guiding design principle, and Agile development iterations were how teams addressed the project.
The system is impressive by any standard. OOCL mixed Optical Character Recognition (OCR) sensors, complex event processing, application servers, data grids, ERP back ends and more to create a useful real-time view of its container fleet.
"We are trying to add process automation and to measure more parts of the processes," Rosen said. In this as in other industries, that means finding processes in which humans don't always have to intercede.
An example in shipping is "D&D," or "detention and demurrage" -- detention being a fee applied for a container outside a port or other terminal after a designated time waiting to load or unload; and demurrage being a charge applied for storage in a port or terminal after a designated time. Now, notifications automatically alert customers when the D&D threshold is approaching. This was done previously by customer service staff by email, phone or fax. Here, automation is a boon. ''It helps with quality and productivity. It frees up people from this mundane thing,'' Rosen said.
These and other events and processes are key in this business. They can entail penalties. "If we are late in submitting a custom manifest, we are fined," Rosen said. Delays are obstructions that create penalties of their own. In trying to catch up to deliver a manifest, a ship captain may run the ship faster, and have to use more fuel, incurring more cost. "It's like a chain of events," Rosen said.
Chain of supply-line tools
The chain of tool and runtime software Rosen's colleagues used to create this system is extensive. Connections were built into SAP ERP applications. Sparx Systems Pty Ltd.'s UML Enterprise Architect tools were used for constructing models of rules, which were validated with stake holders in the lines of business. Oracle Coherence in-memory distributed data grid software was used to ''persist'' business objects and SOA services for clustered application servers. Tibco Software Inc.'s Business Events software works as the complex event processing engine. Importantly, OOCL partnered with SL Corp., a software provider and middleware performance specialist firm, to create real-time information displays for both system and process monitoring.
Partnering to successfully monitor these systems as they work was an important step -- a lesson learned along the way, said Rosen. A less-than-optimal first version of the system convinced OOCL technology leaders that they had to have standard monitoring for all apps.
A complicated business
Rosen says there is a lot more to do. Yet, there's still a lot of newness in what he does. Prior to coming to OOLC in 2004, he administered systems for education, and worked with treasury management systems in Australia. That's a long way from shipping, which he calls "an extremely complicated business."
"You don't understand the whole thing," he said, although since industry colleagues have credited him for being able to take a holistic view of systems.
With this wide world of systems to connect, he was asked, does he ever take the view of a youngster -- that is, one playing in the backyard with typical toys, imagining wider worlds with real ships and trains and trucks? "No, not really," he answered.
But, he admits there was a bit of the feel of that taking part in planning for a new Long Beach, Calif., port facility, destined to become part of the OOCL system.
A sideline interest of his, when work is done, is not of the earth or event processing systems at all. On his own time he pursues the hobby of amateur astronomer.
But, come to think of it, the ancients planned their sea voyages by the paths of the stars. Maybe there is a connection between his hobby and vocation after all.
Follow us on Twitter at @SearchSOA .