BizSlate SaaS BPM builds on popular small business tools
BizSlate is an SaaS BPM and ERP system designed to help small- to medium-sized business that lack a formal product management system keep track of critical inventory data.
The editors at SearchSOA regularly recognize application integration, management and modernization technologies for their innovation and market impact. The BizSlate SaaS BPM and ERP suite for small- and medium-sized businesses (SMBs) is the October 2015 Editors' Choice for Innovation selection.
Product Name: BizSlate
Release date: September 15, 2015
Vendor Name: BizSlate, Inc. in New York
What it does
The BizSlate SaaS BPM and ERP suite provides integrated, automated, cloud-based, supply chain software to businesses still using spreadsheets or Intuit's Quickbooks on-premises, according to BizSlate CEO Marc Kalman. Working with QuickBooks or the spreadsheet, the BizSlate software suite automates the management of customers, vendors, products, inventory, receiving documents, purchase orders, sales orders, invoices and payments.
BizSlate runs on Oracle using Enterprise Java, said Kalman.
"We're hosting this in highly redundant, highly available, highly secure, geographically redundant environments that these small businesses can't create or afford on their own," he said. Also, cloud application providers like BizSlate can add new technologies, such as mobile, to their SaaS BPM and ERP offerings faster than SMBs can.
BizSlate allows customization of management approaches. For example, instead of forcing users to put various types of products into a single "item management" screen, BizSlate's system gives each product type its own identifiers, dimensions, images and inventory. Users can reference what products are within each case, and, should the need arise, break open the cases and return products to open stock inventory.
Also, users can update key data across hundreds of documents (e.g., orders and invoices) quickly via the use of multi-edit forms.
Why it's cool
As a SaaS BPM and ERP application suite, BizSlate brings instant access to tools and real-time information, as well as automated management, to SMBs. These features are a boon to sales and fulfillment teams. Salespeople can work with real-time, open-to-sell inventory and enter orders into the live system anywhere, whether it's in front of a customer or from a trade show floor.
Another feature is BizSlate's real-time integration with QuickBooks Online, which allows businesses to stick with this traditional application. BizSlate's integration with QuickBooks was a big attraction for Kris Mason, director of brand innovation at Just Jan's, a specialty food company in Los Angeles. The fact that data entry could be done in a familiar app eliminated training and short-term slowdown costs. Also, BizSlate brought customization and management features that Just Jan's QuickBooks setup lacked.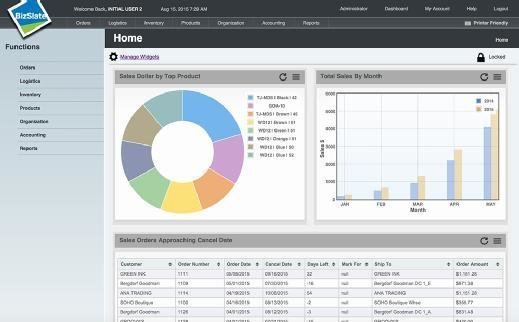 BizSlate's suite is cool because it reduces SMBs' day-to-day data management burdens, said tech analyst Anne Grackin. Traditional business application systems tend to be clunky and time-consuming to use, creating additional data entry burdens and often allowing mistakes to occur and be passed on. BizSlate's automated and cloud-based approach lets SMBs focus on more critical areas, such as operations.
BizSlate takes advantage of the cloud, said Kalman. Its pay-per-use cost structure allows SMBs to use the same applications as large enterprises do.
Mason had been looking at cloud applications for cost reasons and the speed that cloud-based information brings with it.
"To just stay on top of everything that happens and access our information quickly, it was going to have to be a Web-based solution," he said.
What a user says
Before Just Jan's adopted BizSlate, the company did not have any kind of ERP or BPM system in place. Rather, everything was tracked manually using spreadsheets and QuickBooks.
"There was a lot of Excel," said Mason.
Mason was drawn to BizSlate's simplified, single-view interface for inventory and supply chain management. BizSlate brought Just Jan's an easy-to-manage toolset for managing purchase orders, warehouse quantities, fulfillment and invoicing, he said.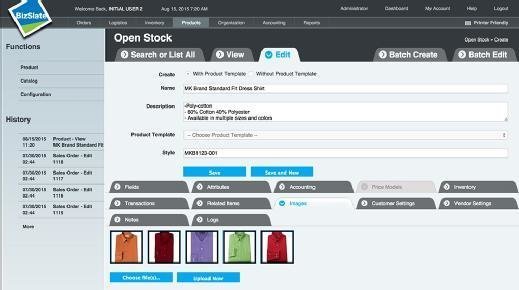 "All those things can be in one place, as opposed to having to go through five or six different sheets and multiple logs for customers," said Mason. "We needed that solution sooner than later."
Customization was another BizSlate advantage for Just Jan's, according to Mason.
"They took the time to find out about what the business was," he said. "And then they created a system, something that fits those needs and even alleviates needs that we haven't come across yet."
Mason gives BizSlate's customer service top ratings. Just Jan's BizSlate representative contacts him regularly to check on Just Jan's status and see what improvements can be made.
"They're asking us questions and figuring out how to best serve our needs," he said. "That's been the best part of this process."
Pricing
The base BizSlate system includes two users at $5,000 per year. Each user added thereafter costs $79 per month, which adds up to $948 per year. Unlimited, U.S.-based telephone support is included at no additional cost, and one-time implementation and training is offered at a cost of $5,000 to $20,000, depending on complexity.