Manage
Learn to apply best practices and optimize your operations.
CEO finds enterprise API investment pays off in trading project
Tradier CEO Dan Raju discusses how he selected and implemented an enterprise API tool, and why.
For a financial services firm looking to create its own digital trading environment, working off a platform that provides real-time data is a must. Tradier Inc.'s Chairman and CEO Dan Raju knew this when he began searching for an application programming interface (API) tool that would enable users to easily build trading applications on top of his company's cloud brokerage platform.
"We have to abstract probably one of the most complex systems that exist in capital markets as a simple set of consumable APIs that are extremely secure and at the same time have high scalability," Raju said. Given that the volume of transactions can vary greatly depending on what happens in the market, having the ability to handle small and large volumes of data with ease was essential.
Testing the market
Raju isn't a stranger to enterprise API selection and implementation. Finding the perfect fit for Tradier marked at least the fourth time Raju engaged in the API research process. To find the coveted tool, Raju's instincts and experience were coupled with that of the vice president of engineering and vice president of product. The team worked together to carefully research the big players in the API layer space.
After assessing the core capabilities of several product offers, the team narrowed the list to three vendors. "We were really looking for a platform with an API management layer on top of that platform that was quick, easy and tightly integrateable," Raju said. Some other required capabilities included:
Tight security for financial transactions
Able to handle real-time data
Easy to integrate
High scalability for anticipated growth
Raju and his colleagues wanted to make sure they nailed the enterprise API tool selection, so they had a team of developers test the top contenders. To delve into the process even further, a few customers also evaluated the top prospects in order to gage the platform from a performance perspective. About 90 days after conducting a small proof of concept, Apigee Corp. was chosen to deliver the company's API.
"We were looking to have an entire range of APIs," Raju said. "It's very important for us to manage the entire lifecycle along with API development and API integration." Another key driver behind the selection was the simplicity of the product. Raju felt that a simple API was important for optimal user engagement.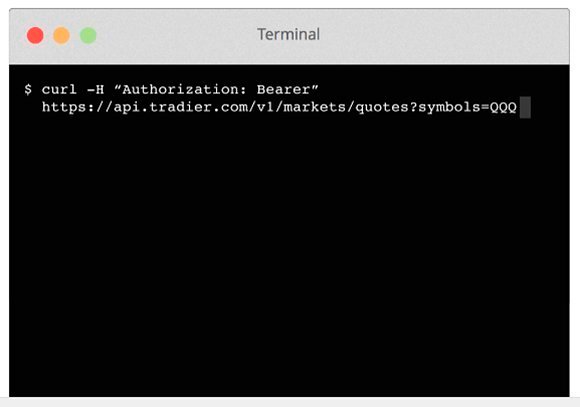 Tradier API
To implement the product, the team proceeded in increments, making small steps and growing from there. "Our implementation lifecycle was get Apigee in as a proof of concept, connect it to our core back office layers, expose it to a few of our customers," Raju said. "Once we felt comfortable, we moved to production and then we started adding features and functions."
Ensuring an investment pays off
While the API industry has experienced growth over the years, the industry is still considered nascent by many IT professionals. Derived from his previous successful enterprise API tool executions, Raju has developed a list of key factors IT leaders should be cognizant of.
When selecting an enterprise API management product he has the following advice:
Have an API management layer built by a professional -- it will become difficult to keep up with necessary changes.
Have a clear set of business requirements.
Start work in small chunks that are easy to manage.
Speak with multiple vendors and short list them.
"You are not buying a project tool or a platform that you can click and understand how it works," Raju said. "You are talking about a highly technical product. Make sure you are talking to guys who actually build it."
Maxine Giza is the associate site editor for SearchSOA and can be reached at mgiza@techtarget.com.
Follow us on Twitter @SearchSOA and like us on Facebook.
Dig Deeper on API management