Evaluate
Weigh the pros and cons of technologies, products and projects you are considering.
Cloud Foundry platform offers organizations open architecture PaaS
The Cloud Foundry platform as a service helps developers create and deploy cloud-native applications, and is also the basis for other companies' PaaS offerings.
The Cloud Foundry platform as a service is a flexible, customizable development environment for enterprise-scale app projects. While Cloud Foundry is particularly suited for the creation and deployment of cloud-native apps using the languages of Ruby and Go, its fully-scalable nature and open architecture offer an environment that can be tailored to various languages, frameworks and development goals.
Throughout the application lifecycle, the Cloud Controller directs app deployment and centralizes information through visual displays such as tables and charts, so that users have consistent access to data as it changes and develops. Other logs and metrics can be organized and reviewed through the aggregated streams provided by the Loggregator system.
Upon request of the Cloud Controller, the Droplet Execution Agent (DEA) manages applications' lifecycles, starting or stopping droplets -- which are Cloud Foundry application archives. The DEA is another component of Cloud Foundry platform. It stages applications and manages them in Warden containers, while performing automatic check-ups on app instances.
Both Cloud Controller and DEA communicate directly with Cloud Foundry's Health Monitor (HM9000), which provides more detailed monitoring and feedback during the development cycle. HM9000 consolidates and logs any potentially redundant app versions, monitors instances and alerts the Cloud Controller of any discrepancies to ensure visibility and traceability.
Other signature features of the Cloud Foundry platform include the User Account Authorization server for determining users' credentials and clearances; the internal correspondence service Message Bus; and the Blob Store, which maintains code, buildpacks and droplets.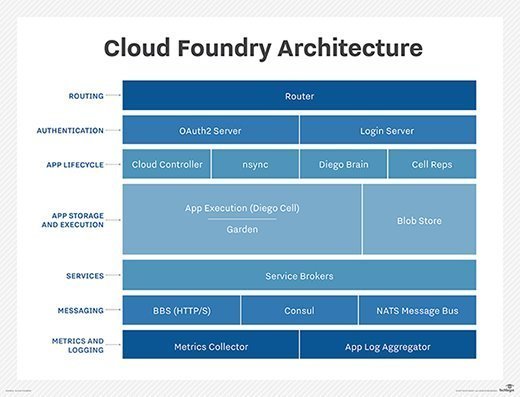 Organizations base technology off of the open Cloud Foundry platform
Many platform as a service (PaaS) vendors base their cloud architecture on Cloud Foundry Platform For example, Pivotal Software offers Pivotal Cloud Foundry, a cloud-native platform that deploys and manages apps. IBM's Bluemix PaaS, another distribution based on Cloud Foundry, leverages Cloud Foundry's large ecosystem of services and combines it with other Bluemix components. Users with existing access to Pivotal services can run a free trial version of the open source cloud platform. After the trial period, the service's price is determined by number of instances and memory usage. IBM Bluemix PaaS customers have access to IBM's instance of Cloud Foundry, which offers 0.5 GB per month free for runtimes and containers. SAP Cloud Platform is also another Cloud Foundry-certified distribution.
Cloud Foundry invites prospective users to contact them directly to discuss additional pricing and support details, and also encourages enrollment in their membership program. The program strives to keep Cloud Foundry independent and neutral. Benefits to becoming a member include the ability to influence the project through engineering, access to user groups, exclusive events with discounts on sponsorships and insight into the Cloud Foundry platform usage.
Dig Deeper on Application modernization