Editors' Choice: Package Track software gets a collegiate thumbs-up
This Editors' Choice takes a look at the features of Package Track, an electronic system that helps mailrooms gain control of their inventory, pickups and deliveries.
The editors at SearchMicroservices regularly recognize enterprise architecture, application integration and business process management technologies for their innovation and market impact. This month, we chose to put the spotlight on IntelliTrack's Package Track software.
Product name: Package Track
Release date: 2002
Vendor name: IntelliTrack Inc.
What it does
Package Track is an automated, electronic system deigned to help mailrooms gain control of their mail inventory, providing a way to efficiently manage receipts and deliveries, as well as an audit trail of package activity.
"A classic example is UPS, FedEx ... whatever carrier comes in, they drop off a bunch of packages, and now [it's the] responsibility of the mailroom and its employees to take and deliver those packages, or have some recipients come pick them up," explained Noel McKeon, business development manager at IntelliTrack, based in Sparks, Md. "What time did it show up? When did you deliver it? Who signed for it? ... [That's] what our solution is designed to help out with."
Receiving and deliveries are performed using a rugged mobile computer outfitted with an integrated scanner. All the collected data is synced with a system's back-end database. The Package Track software is locally installed and leverages a Microsoft SQL Server database to store all data.
Package Track is primarily designed to improve the operation of mailrooms, particularly in university student mailroom settings. The application supports rugged mobile computers from various manufacturers, which allows users to receive packages by simply scanning the existing carrier tracking numbers.
The mobile computer also provides a portable way to coordinate package delivery on a mail route and capture an electronic signature from the package recipient. Additionally, it can be outfitted to provide automated email notifications to inform recipients about the status of their packages and free up mailroom resources -- especially time.
Why it's cool
In addition to the fact that the Package Track software allows users to use their own hardware and workstations and is easy to use, the company also touts its years of experience with managing mailroom operations as a major advantage of using its services. IntelliTrack has been working with and improving the package-tracking system for almost a decade and a half.
But beyond customization and experience, it is Package Track's simplicity that delivers the core value for many customers, said Toby Burrell, president of SAB Solutions Inc., a third-party sales organization in Medfield, Mass., that works to distribute Package Track software on behalf of IntelliTrack.
"It's a fairly basic system, which means that it will do all of the things that they want it to do, while at the same time being modestly priced," Burrell said. "There were people out there who would sell a competitive product that has a ton of bells and whistles and [is] very expensive. Package Track addresses people who say, 'I just need a way to be able to track a package and have a final-mile custody tracking before a parent or student calls up.'"
Burrell also said part of Package Track's appeal rests in the fact that the software has gone through so many iterations, contributing to the software's reliability and durability.
"It will do what you want to do," Burrell said. "You're not going to see anything unusual happen with it, so your users aren't going to come to you and say, 'Why did it do this?' or, 'Why did it do that?' It will be implemented easily, and your users will get comfortable with it very quickly."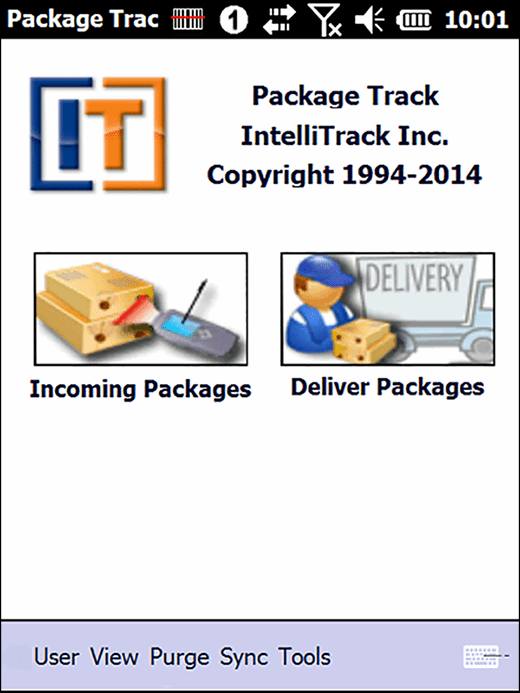 One notable aspect of the Package Track software, especially in today's cloud-heavy world, is it remains an on-premises offering. McKeon said while IntelliTrack does have plans to formulate a cloud version of its services -- possibly in the coming year -- ultimately, the software resides on dedicated workstations. However, this can make the service attractive to universities, since they are often sensitive about the confidentiality of their information and may be hesitant to leverage cloud-based services, which was the case with Hofstra University's campus bookstore and mailroom.
"We still run into this [situation] where, like Hofstra, privacy is an issue ... [customers] want something local," McKeon said. "That's a common occurrence [and] partially why today we still have the locally installed or client-server offering with robust secure SQL Server back end."
What a user said
Steve Babbitt, general manager of the Hofstra University student post office and bookstore, said this service allowed the university to bring its paper-based mail and package-tracking system out of the Stone Age.
"It was on a two-card mailroom form originally that was split -- one part of the package and one part in the post office -- and then they used that slip to come up with an email list of everybody that received the package," Babbitt explained. "And then, those slips were used when the student came to pick up, because they came to us -- we don't go to them. We matched those two slips together when the student came to pick up the package."
"After we started with IntelliTrack, we were able to scan and email automatically," Babbitt said. "And we made some modifications along the way, you know, again, to fit our needs."
The customizations Babbitt referred to include an automated email notification system that would inform students a package had arrived for them as soon as the package is scanned. That email list is provided to Babbitt, and it is integrated with the IntelliTrack software. The list, he said, contains about 4,500 student email addresses and goes through several updates every year.
"So, at the end of the semester, they'll update the resident lists for only those people that are going to be here, let's say, for the break or for the summer," he said.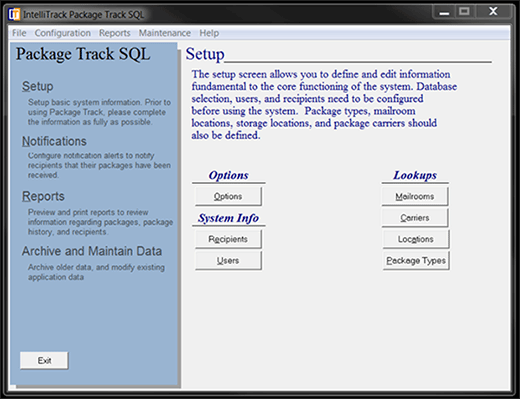 But while this customized functionality is something Babbitt needed, the fact that this software collects student email addresses is one of the reasons Babbitt chose to take the on-premises approach. In fact, he said any mention of the word cloud to the university's administrators would be met with immediate opposition. Babbitt knew it was on premises or nothing.
"In Hofstra's case, giving email addresses is a very sensitive topic," Babbitt explained. "It becomes a legal issue. So, I knew that if I went and said, 'We're going to install a system and put all your email addresses for all the resident students in the cloud," they wouldn't let me. So, that's why I chose to keep it local."
Pricing
The list price for Package Track software and services starts at $2,395 for a single user. This includes licensing for one computer workstation and one rugged handheld scanner. There are additional costs associated with a typical sales agreement, such as support costs, training costs, and costs for additional licenses and hardware. However, the company was unable to provide an exact figure for the cost of these additions.