Editors' Choice: Streamline business processes with Form.io
Form.io, SearchSOA's Editors' Choice for Innovation, simplifies the creation of front-end business process forms by integrating back-end API data management.
Learn how Form.io combines web form and API data management technologies to help application developers build complex form-based, serverless applications to streamline business processes.
Product Name: Form.io combined FORM and API Data Management Platform
Release Date: September 2015
Vendor Name: Form.io LLC
The editors at SearchSOA regularly recognize enterprise architecture, application development and API data management technologies for their innovation, usability and market impact. The Form.io FORM and API Data Management Platform is the September 2016 Editors' Choice selection.
What it does
Boardman LLC turned to Form.io to consolidate its forms and data collection and sharing processes. A custom metal fabrication company in Oklahoma City, Boardman uses in-house and geographically-distributed independent salespeople, and that sales team's manual request-for-quote and other forms slowed down the sales process. Tracking activity of business process applications using a legacy ERP system was also difficult.
We had 10 different pieces of quoting software and an inefficient system for getting information to where it needed to go.

Robby HagemanPresident, Boardman
"We had 10 different pieces of quoting software and an inefficient system for getting information to where it needed to go," said Robby Hageman, president. "Form.io provided us with standardized forms and a central hub of information."
Form.io provides developers a platform for building web forms quickly and efficiently, inserting them into their own applications. Going a step further, the Form.io platform automatically generates the APIs required to connect the applications to the data management infrastructure in the back end.
"Building complex forms within business process applications has always been a difficult and time-consuming task for developers," said Gary Wetzel, CEO of Form.io. "Now with the emergence of serverless application architectures, they're even more difficult because the forms must be connected via APIs to remote server infrastructures that support them. That requires intricate API coding, which the Form.io platform generates automatically," he noted.
The Form.IO platform's features include an interface that non-technical business users can manipulate to create and update their own business process forms. Also, Form.io uses a REST API architecture, which can be used to clone standalone front-end and back-end apps and integrate them together without recoding the APIs between them.
Form.io can be deployed and hosted in three ways: by Form.io on AWS EC2; an on-premises Docker deployment; and deployed on a private cloud with Docker.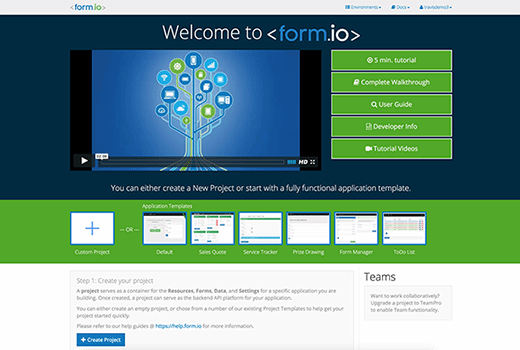 Why it is cool
Tying web forms and a supporting API and data management back end together are Form.io's top cool factors, according to Hageman. Today, his organization uses standardized forms built in Form.io in a serverless application and all his salespeople can access accurate product and sales information in real time.
For developers, said Wetzel, Form.io automates manual and combines separate tasks. The platform's drag-and-drop "FORM-builder" interface reduces the amount of coding needed to build form-based applications. The platform consolidates three separate tasks: building the forms; setting up data structures on the server side; and manually connecting the forms and data structure with APIs.
In addition, Form.io addresses numerous other emerging demands placed upon developers such as being able to address multiple mobile device interfaces; integrating into legacy systems and multiple third-party service providers (APIs); supporting offline mode operation, file uploads, complex roles and permissions; and multiple user authentication methods. It carries out these tasks with a stateless REST API-driven application structure with separation of the application front end from the back-end servers that support them.
What a user says
Boardman needed to make it easier to generate more quotes faster to increase sales. "We had to feed the beast, and feed the beast was the number one priority," said Hageman. "Form.io provided the biggest, easiest way to attack that problem."
Today, Boardman salespeople send in all their information in the one standardized format. Business processes are presented in a trackable workflow and human error is now rare.
Best of all, said Hageman, Boardman's estimation "beast" is well fed. Independent salespeople can pull up old quotes and new prices anywhere, anytime on their mobile devices. "All of their information is at their fingertips on their smartphone," said Hageman. "Before, they often had to call an estimator to dig up an old quote. That took that estimator away from the other estimation he was doing."
Hageman is exploring new ways to streamline business processes with the Form.io platform. "We're looking at HR uses, creating forms and tracking system for employees," he said. Today, for example, vacation requests are made on a paper form. "We could create a process that includes a web form, approval by a supervisor and so on," he said. "I see a lot of possibilities for streamlining processes now that we have the ability to make custom forms that live in a hub-and-spoke communication system."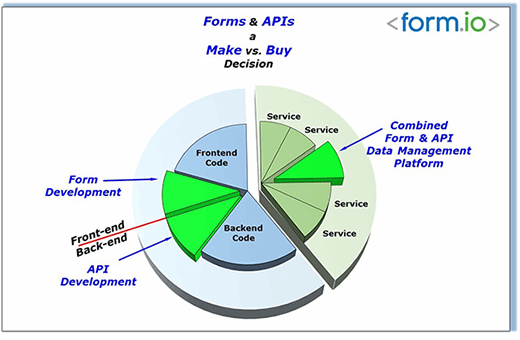 Pricing
A free software as a service monthly recurring subscription model is available on a per application basis, and it is not based upon the number of users and forms.
For $15 a month per application, Form.io offers fully-operational and deployable applications with limited API submission volume, as well as basic third-party integration and features.
The Form.io Team Plan is hosted by Form.io and available for $100-$500 per month per application. The fee level is based upon API submission thresholds.
The Form.io Commercial Plan has several options, which start at $100 per month per application with no API submission limitations.