Editors' Choice for Innovation: OpenLegacy API Platform
Learn how OpenLegacy API Platform provides automation and modernization for all aspects of application integration projects.
The editors at SearchSOA regularly recognize application integration and modernization technologies for their innovation and market impact. The OpenLegacy API Platform is the September 2015 editors' choice selection.
Product Name: OpenLegacy API Platform
Release date: Version 2.2 released Q1 2015; 3.0 release scheduled for Q3 2015
Vendor Name: OpenLegacy Inc.
What it does
The OpenLegacy API Platform handles and automates all aspects of an application integration project, from mapping legacy back-end assets to deployment. In addition, it provides a simple REST API implementation for application modernization projects that don't call for eliminating core legacy systems.
OpenLegacy, an open source legacy modernization and integration platform provider in Princeton, N.J., provides "easy plumbing to your legacy system that you can quickly access and use," said industry analyst Jason Bloomberg.
With OpenLegacy API Platform, Bloomberg said, businesses can modernize applications through integration by exposing back-end systems to modern technologies. How? The platform makes it easy for developers to generate Java Data Objects, RESTful APIs and Web services. Its automation capabilities can reduce the time it takes to integrate legacy and new software "from months to a few days," said Bloomberg, who is president of Intellyx, an IT consulting and training firm in Glens Falls, N.Y., and author of the book, The Agile Architecture Revolution.
Bloomberg offers an example of how this API platform works. "If you want to just take it as a job object, the API platform can be used to generate that job object based on that legacy code and that legacy environment, and you can take that," he said. Alternatively, the developer could wrap the job in a REST API and put that into the API management catalog or elsewhere in the compute environment.
Hans Otharsson, OpenLegacy's COO, offers another API platform use case, that of exposing back-end process capabilities to mobile devices. In this case, a retailer wants to put mobile applications for back-end processes -- inventory knowledge or delivery schedules, for example -- in the hands of employees working anywhere in the store.
With the OpenLegacy API Platform, an enterprise architect or developer can convert the back-end app into an XML trail file that is analyzed and parsed. Next, the tool automatically generates the Java object, which can be wrapped in a REST API. Using the API platform's templates, the developer can take that API to a mobile device or a cloud application.
With that information on hand, a salesperson can answer customers' questions on the floor. "There are no more asking customers to 'come back to my desk, and let me see what we can do' events," which can slow down or stop the buying process, Otharsson said.
Why it's cool
Traditional application modernization practices often call for replacing or rewriting everything or buying something new, Bloomberg said. The OpenLegacy API Platform helps businesses modernize their applications while retaining the value of legacy applications. "If an app is just old but still works, why not use that and try to integrate to it?"
There are application modernization tools on the market that can build a model-based representation of a legacy system and provide that integration, Otharsson said. OpenLegacy's differentiating capability is automatically generating APIs, which other products don't, he said. "OpenLegacy has this extra twist to the story where you end up with these RESTful APIs that you can then incorporate into any software you're building that leverages APIs."
Another cool factor is that OpenLegacy API Platform is an open source API environment, Bloomberg said. Using the best-of-breed technologies out there is better than developing alternatives to Angular, Maven, Spring and other open source tools that work well. OpenLegacy uses existing technologies and goes a step further by providing them with connectors to back-end systems. And, he said, that's really where the cool intellectual property is.
What a user says
One could liken Israel-based Delek Motors Ltd.'s OpenLegacy API Platform project to remodeling the exterior of a vintage car with an A+ engine inside. In this case, Delek's vintage IBM AS400 mainframe ran like a dream, but what users saw was an ugly green screen interface.
Delek Motors is an automotive import, distribution and sales company, which runs retail showrooms, service centers, parts stores, technical training centers and other related operations. To improve customer experience in sales and service, Delek set up a new customer call center and implemented Microsoft CRM. Customers, call center reps and salespeople used it to tap into core business applications to obtain car quotes, order details, logistics and customer care data. All of this information lived on Delek's IBM AS/400.
The AS400 system has worked and does work well for Delek Motors, but the user interface didn't. "We were still using the green screen, which users said was outdated and not easy to use," said Ruti Hirsh, Delek's vice CIO.
In addition, teaching Delek's employees to use the green screen interface was difficult. "People didn't want to work on it," Hirsch said. Their experience was in using smartphones and other devices' Web interfaces.
At first, integrating an on-premises mainframe system with CRM and Web interface technologies looked like a long and costly process. The initial time and cost estimates were daunting until Hirsh met OpenLegacy, which specializes in modern makeovers for classic systems.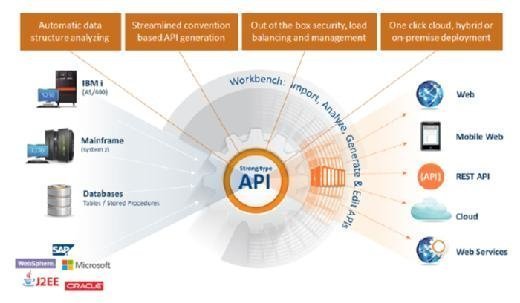 With OpenLegacy's automated REST API approach, adding new UIs to AS400 and integrating it with Microsoft CRM took weeks instead of months, she said. It's surprising when "an integration process is easy and poses few, if any, problems, but OpenLegacy did that," she said. The application-to-application integration and cloud application integration processes were "painless," she added.
Rather than a Ford Pinto green screen, Delek now offers a user interface as sleek, modern and negotiable as a BMW X4. The post-OpenLegacy Delek UI, said Bloomberg, has all the Web screen must-haves, from drop-downs menus to radio buttons to consolidating screen flows.
"All those things provide a whole new 'we-space' to Delek's legacy environment," Bloomberg said. "But they haven't changed anything on that back-end system. They maintain the security, the performance, the inherent business logic that's in that back-end code."
Pricing
The OpenLegacy API Platform's subscription pricing model is based on consumption. The pricing structure differs by platform solutions, such as the iSuite for IBMi/AS400, zSuite for IBM Mainframes and eSuite for Linux/Unix/Windows.