Editors' choice: Built.io Flow cloud integration platform
With the Built.io Flow cloud integration platform, novices and development veterans can create real-time integrations between cloud services, mobile apps and legacy IT systems.
The editors at SearchSOA regularly recognize SOA, enterprise architecture, application integration and modernization technologies for their innovation and market impact. Built.io Flow, a cloud integration platform, is our new Editors' Choice for Innovation selection.
Product name: Built.io Flow
Release date: Cloud-based version 1.0.96 released on March 15, 2016; on-premises version coming during summer 2016
Vendor name: Built.io
What it does
Built.io Flow is a new integration tool set for connecting separate systems of many kinds, ranging from cloud-based services to legacy IT systems. Its drag-and-drop, icon-based UI is simple enough that business managers can connect a couple of applications. In addition, the Flow cloud integration platform also serves veteran software developers and architects who create sophisticated integrations between extremely different systems, according to Nishant Patel, CTO of Built.io. He's seen customers creating customized integrations across many popular cloud services.
An early adopter, Agralogics, used Built.io Flow to "build end-to-end workflows between services that can be metered, throttled, managed and monitored via a simple, declarative framework," Sanjay Dayal, co-founder and CTO of the food industry software as a service (SaaS) application provider, said. With Built.io Flow, Agralogics can now provide bidirectional connectivity between the new and the old systems. He sees Built.io opening the door to the Internet of Food (IoF) for Agralogics' SaaS line. The IoF is the network of systems, sensors and devices that monitor food's safety and freshness as it moves through the supply chain.
In addition to basic point-to-point connections and simple "if this, then that" automation, Built.io Flow can automate more powerful enterprise workflows. An example of a more complex workflow, Patel said, would be a scenario like "If this and if this, but not if that, then run a loop until a condition is true and trigger events across multiple systems."
Why it's cool
Scope of functionality and ease of use make Built.io Flow a "game changer," Jim Lundy CEO and founder of Aragon Research, a Silicon Valley IT advisory firm, said. In his view, the cloud integration platform's release is timely for digital masters who aim to make enterprises fully digital and eliminate manual processes between applications.
On the ease-of-use side, Lundy considers Built.io's user interface so intuitive that a business office manager or a novice developer can connect two siloed systems, as well as automating a manual business process between them.
For larger projects, more experienced enterprise developers and architects can use Built.io Flow to connect more complex systems. For example, "Enterprises can connect all of their API-first, SaaS-based services to their traditional data center systems, without having to spend months standing up a complex integration infrastructure," Patel said.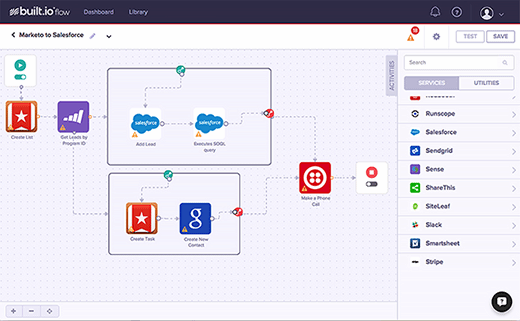 What a user says
In the food and agriculture space, many suppliers have mission-critical systems that are very old. Agralogics offers SaaS applications that can modernize those systems. As CTO, Dayal was frustrated by the lack of tools to enable a seamless transition from legacy to SaaS applications.
The integrations could be handled declaratively -- i.e., without coding.

Sanjay DayalCTO, Agralogics
"The traditional option available was to build siloed and proprietary connectors to Web-enabled services," Dayal said. This was costly, time-consuming and error-prone in all phases of migration, including development, operation and maintenance.
Enter the Built.io Flow cloud integration platform, which provides an all-in-one infrastructure and tool set. "New connections and integrations are easily added and maintained, and everything is lightweight and standards-based, so we don't need proprietary, heavy ESB infrastructure," Dayal said.
Agralogics' SaaS platform is built on representational state transfer APIs, and Built.io's REST-friendliness was a plus. "The integrations could be handled declaratively -- i.e., without coding," he said.
Many Agralogics customers' legacy systems, on the other hand, are not based on REST APIs. In addition, most of their systems run on-premises in traditional data centers. Dayal found that Built.io didn't balk in those scenarios. For one thing, the tool set has the ability to securely connect to systems behind the firewall without having to change security policies at the client site. Also, Dayal added, Built.io Flow handles services easily, even when customers' systems don't provide a Web-enabled API.
Dayal gives Built.io high marks in deployment and operations functionality. It's an easy to use, but powerful and robust, cloud integration platform. "Built.io Flow really shines with what, for me, is the most useful architectural innovation over other [integration] products I've used," he concluded.
Pricing
Enterprise plans for the Built.io Flow cloud integration platform start at $1,499. SMB discounts, per-user plans, reseller and custom pricing are available.