Thep Urai - Fotolia
Evaluate
Weigh the pros and cons of technologies, products and projects you are considering.
Email management system delivers for marketing company
Marketo's VP of operations and privacy discusses how he and his team selected an email management tool to meet the company's desire to serve a larger client base.
Undeliverable, bounced back emails are more than a frustration for Nick Bonfiglio. They're a costly failure that the vice president of operations and privacy at Marketo has to deal with. Frustrated with an automated marketing company's messaging software's scalability and configuration limitations, Bonfiglio set out to find a tool to meet Marketo's goal of serving a larger clientele.
Not only did the previous software not meet Marketo's desire to server bigger customers, it also created headaches for the team, comprised of approximately 40 people. Every time the product needed configuring, Bonfiglio and his staff would have to take downtime from the mail infrastructure in order to create any change.
Shifting through junk software
There are only a handful of messaging system software vendors in the market, so narrowing down the field wasn't a huge problem. "We knew we had to make a change. There [were] literally three different ways we could go," Bonfiglio said.
Bonfiglio, along with engineers and development operations personnel, evaluated three leading email message software providers (Bonfiglio declined to provide specific names). In addition to being able to scale and configure easily, there was something else Bonfiglio and his team were looking for -- adaptive delivery.
Adaptive delivery optimizes when emails get sent, which helps cut back on bounced-back messages. At one point the team considered designing a system that would adjust the mail delivery flow to a particular ISP per IP address; however, that idea was nixed when it became evident there are offerings on the market that come with that capability. "We wanted a vendor that had already built a lot of this so we didn't have to incur the R and D expenses rather than building our own," he noted.
The evaluation process entailed several steps, starting with setting up small pilots based on what the project team was working on. The team also consulted other colleagues and checked vendor references.
After discussing various products, the Marketo team decided to go with Message Systems' Momentum platform. Bonfiglio said the main differentiator was Message Systems' centralized configuration management and ability to automate scripting language capabilities. Another feature that set Message Systems apart from the pack was its dynamic throttle capabilities.
"Since you are able to slow down and detect that [when messages are likely to successfully be sent and opened] it increases you deliverability scores and your deliverability chances," Bonfiglio said.
Ensuring a smooth delivery
Getting the new email software in place involved a combination of getting the hardware up and running for Message Systems and building Marketo's interfaces into Message Systems. "Working with the existing infrastructure, we went with the new infrastructure in parallel and we systematically, pod-by-pod, converted over to the Message Systems infrastructure," Bonfiglio said. "That allowed us to see the scaling and how much capacity we needed in that infrastructure."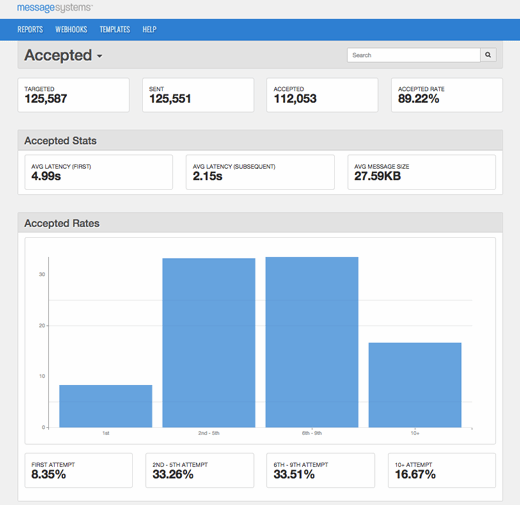 While with most projects, there are a few things that Bonfiglio and his team learned from the experience. For starters, he feels the team underestimated just how complex Message Systems is. "It's not just about sending the email, it's reading the logs and the responses back that a user opened an email or they clicked on a link," he said. "All of those aspects of mail delivery can become complex when you are talking about 3,500-plus customers."
If he had realized the different components and configurations, the project would have gone more smoothly. "You need to do your homework and make sure you are measuring up everything you need to get done," he said. "You will discover things along the way that you weren't expecting the system to work in a certain way."
Maxine Giza is the site editor for SearchSOA and can be reached at mgiza@techtarget.com.
Follow us on Twitter @SearchSOA and like us on Facebook.
Dig Deeper on Enterprise application integration