Evaluate
Weigh the pros and cons of technologies, products and projects you are considering.
Global investment company banks on HTML5 Web apps
When eVestment acquired several other firms, its VP of technology went on a quest to find the perfect platform for everyone's HTML5 Web apps.
When eVestment acquired a couple of competing firms, Hesom Parhizkar knew each employee needed to work off the same platform for its HTML5 Web apps.
"We needed to create a new, enhanced, SaaS-based application that could run on our private cloud online and accommodate everyone's needs," said Parhizkar, VP of technology for the Atlanta-based global investment and data analytics company.
Having worked in development for more than a decade, Parhizkar was well-versed in dealing with SaaS-based applications. "The trend is with HTML5 and JavaScript being popular," he said. "Everything now is very service-driven and clientside, which is a little different than in the past." So Parhizkar used his experience, coupled with his colleagues, in his quest to say good bye to eVestment's .NET stack.
Deciding where to invest
Parhizkar worked closely with eVestment's CTO and a few technology leads to compile a list of must-have offerings. Some of those features included responsive design, compatibility with modern browsers and speed.
Some team members had experience working with jQuiery UI and simply wanted to start from scratch. One of the acquired companies was already working off an old version of Sencha Ext JS, so the group also considered that platform. The team additionally looked at Google's AngularJS platform to support its HTML5 Web apps.
With the list of contenders narrowed to three, the team performed a light proof of concept. Parhizkar said the team created a grid and compared all three products. The team decided jQuiery UI wasn't for them because it involved a lot of plug-ins.
"There are a lot of plug-ins out there, but nothing essentially out of the box," he said. "We could have used plug-in XYZ, but we'd still have to create custom code to tie them all together or to do what we wanted the system to do."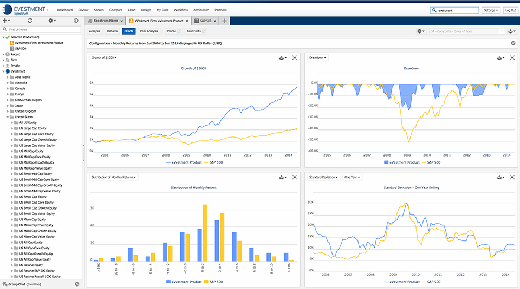 Banking on a platform for HTML5 Web apps
Ultimately, the team decided to go with Sencha because it offered many components out of the box. Parhizkar also noted that Sencha offered "top-notch" enterprise support.
Since one of the acquired firms was already using Sencha Ext JS 3.0, eVestment decided to migrate that company to the 4.0 platform first. There was coding in the older version, so they spent a few months getting things up to speed. At one point, the Sencha team was brought on site for a boot camp. While the developers learned a lot, it resulted in some more work up front. "Essentially we went back and refactored a lot of the code we did over the past couple of months to help us down the road," Parhizkar said.
All in all, Parhizkar said he is pleased with the investment. He does, however, have some advice he would give anyone faced with a similar project. "Definitely have training sooner rather than later," he recommends. "Even before you start the project, either get online or on-site training."
Parhizkar also highlighted the importance of doing research beforehand. An extensive framework may be necessary for some organizations, while others may be able to function fine with something more simplistic. Contacting various vendors and giving products a try is the way to go, he said. "Do a proof of concept of a small feature to see what suits your team and your needs."
Maxine Giza is the site editor for SearchSOA and can be reached at mgiza@techtarget.com.
Follow us on Twitter @SearchSOA and like us on Facebook.
Dig Deeper on Distributed application architecture