Oleksiy Mark - Fotolia
Google hackathon cracks open a view into a changing development world
A hackathon can do more than showcase cool apps. It can teach us about the developer community. This Q&A examines a Google-sponsored hackathon and the lessons it revealed.
Let developers loose for 24 hours, give them access to all the tools they need to build a fully functional app within that time frame, and you might learn something interesting. First, you'll learn that it's extremely impressive what a talented developer can produce in such a small amount of time. Second, you'll learn that big things can happen when you eliminate the need to assemble your own back end. And finally, you'll learn that developers are thirsty for development tools that focus on execution.
At the 2016 AnDevCon conference in Boston, representatives from Google hosted a hackathon featuring tools from their Firebase mobile development product platform. Participants in the Google hackathon, who could compete either on their own or as part of a team, had 24 hours to build a fully functional app with the support of the Firebase back end and its various tools.
In this Q&A with Doug Stevenson, developer advocate at Google and one of the hackathon's judges, he explained why and how they chose the winning apps, the lessons you can learn from them and what this Google hackathon tells us about the mindset of the developer community.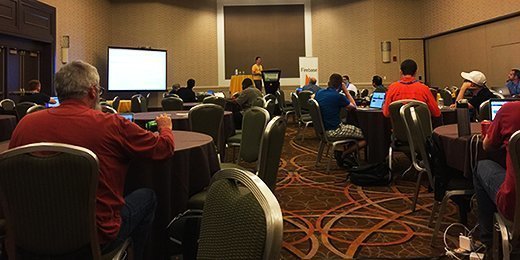 Can you tell us a little about the winning apps?
Doug Stevenson: OnTheGo could be classified as an augmented reality app. It shows you a selection of points of interest on a Google map in your immediate area, as determined by GPS. It used Firebase Realtime Database to store locations and GeoFire to query for items around the device's location. It used [Firebase] Authentication along with the AuthUI library to demonstrate a flow for how a location with an active offer could be used by a logged-in user. It made use of the Google Place Picker API to search for points of interest and FirebaseUI to help display saved items.
This app appeared to the judges to be a creative and distinctly mobile application to be used for discovering and navigating new areas and had the potential to make use of even more parts of Firebase. It was an ambitious project (completed by a solo programmer), helped by Firebase and other supporting Google APIs.
Listster was the second-place app. It's a shared list management app that makes it easy to collaborate on shared lists such as TODO lists [Google's "to-do list" application]. It used Firebase Realtime Database to store lists, Firebase Invites to get new users into the app to receive a shared list, and Authentication to get those people identified.
The third-place winner was a social image-sharing app called Hipsters Insta Pix. It helps people take pictures and share them with others in a live-stream format.
Was it hard to select a winner?
Stevenson: It wasn't terribly difficult to select the winner because we used a numeric scoring rubric to rate each app. That's listed on the rules page, as are the winners. However, the top two scores were within a fraction of 1% of each other, and that was confirmed by the fact that no one easily agreed which was the top app.
What do you think developers can learn from these winning apps?
Stevenson: We're entering an age of mobile development where it's becoming easier to create native mash-up style apps in the same way that web applications were doing years ago, except that mobile developers no longer need to provide their own back end to manage or scale. We saw that it was easy for developers to prototype and validate their creative ideas.
What does this Google hackathon say about the mobile development community at large?
Stevenson: The feedback we received over and over was that it's really easy to get started with Firebase to begin building their apps ASAP. Some of the developers were even fairly new to Android and were able to build a surprisingly functional app in 24 hours. This tells us that the development community is thirsty for tools that can help them focus on executing their app idea without having to learn lots of new technologies to make it happen.
More from Doug
Hear Doug Stevenson talk more about the driving forces behind a hackathon and what changes when Firebase in involved.
Fred Churchville is a writer/editor for TechTarget's Application Development Group. You can write him at [email protected] or follow him on Twitter (please) @TechTargetFred.