 BACKGROUND IMAGE: iSTOCK/GETTY IMAGES
Manage
Learn to apply best practices and optimize your operations.
HTML5: The perfect mobile development framework prescription
Biotechnology leader Genentech's mobile Web technical lead discusses how and why she decided to use HTML5 for a mobile development framework.
Biotechnology leader Genentech uses human genetic information to develop medicine to treat people afflicted with life-threatening ailments. The company's mobile program is cutting-edge too, dating back to the iPhone itself, according to Christian Santiago, Genentech's mobile Web technical lead in the enterprise mobility group.

With the CIO already on board, the company didn't need a prescription for a mobile Web application or native iOS development. Instead, Genentech looked forward to see what it could do to help improve the lives and productivity of its employees
It's not surprising that a biotechnology company knows a thing or two about experimentation and following up on a hunch. Genentech doesn't have a bring-your-own-device policy because it has a fairly large iOS deployment, so the creation of its own applications was really a trial in an effort to be a game changer.
Choosing the right mobile development framework
There is a plethora of options on the market designed to meet the needs of various businesses. Since Genentech has been developing its own applications for a while, the organization decided it was time to use standardized frameworks. Santiago said her team had some hard criteria for the framework it wanted to use. "It had to be Web-based, so: HTML, JavaScript, CSS," she said. "Our main development force is very well-versed in Web technology, particularly Java."
HTML5 was a wise investment.

Christian Santiagoenterprise mobile Web technical lead, Genentech
Desired framework features included the following:
Web-based: HTML, Javascript, CSS
Flexible look and feel
Native-compatible
Offers ability to create hybrid apps
Strong vendor support
Genentech also needed to choose a product that would align with its internal corporate culture. While some organizations may like having a framework that is ready to go out of the box, that wouldn't be a good fit for the biotechnology company who wanted something flexible in both look and feel.
"For internal apps, we try to bring a sense of fun to employees, so we give them an interesting name and give them their own icon," Santiago said. "They look a lot like consumer apps."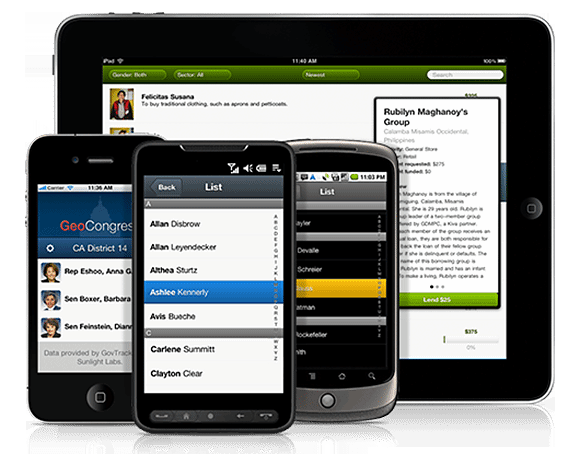 Sencha Touch Hero
While it's currently not a huge concern for Genentech, the team wanted to make sure the solution would be compatible with native packing tools and has the option to create hybrid applications.
Once Santiago knew what features she wanted in a framework, she conducted market research with a developer survey and narrowed down the search to three vendors: jQuery Mobile, Sencha Touch and Appcelerator Titanium. With the shortlist in hand, Santiago's team performed tests to see which product would best meet Genentech's needs.
"We did some sample projects on each one to see which felt the best in terms of developing something and getting started," Santiago said. "We went through the experience of solving a problem by looking at forums, looking through documentation to solve a problem, and then playing with the framework and testing its performance."
Ultimately, Santiago's team decided to move forward with Sencha Touch, in part because of the time saved by using the product. "The impetus for adopting an HTML5 framework was meeting demand. We needed something to be able to ramp up quickly," Santiago said. "Our goal is to be able to do 10 to 15 apps a year at some point, so we really want to be able to create more apps than we've been able to before."
Another differentiating factor for Santiago was the level of customer support. She noted how important it was for her and her team to be able to go into a forum and see the vendor quickly answering questions and taking good care of its customers.
HTML5 mobile development framework handles content
When choosing a framework, Santiago said it's important to keep scale in mind and to remember that not all applications are the same or intended to fulfill the same needs. Applications without a lot of data, such as those used for training or transaction approval, lend themselves well to HTML5 mobile development framework, Santiago said.
Despite the controversy in the development community around HTML5, Santiago is confident she made the right decision. "HTML5 was a wise investment," she said. "I don't think I could go in a different direction and get the same results."
Santiago described the transition to the new framework as smooth. In fact, she believes her team is ready to pick up steam as a result.
"I think we are really at the point where we can put together an application once we have a design, start to finish, in six weeks," Santiago said. "We are working on sort of upping our game a bit and enlarging this to other development teams in the company."
Maxine Giza is the associate site editor for SearchSOA and can be reached at mgiza@techtarget.com.
Follow us on Twitter @SearchSOA and like us on Facebook.
Dig Deeper on Mobile app development