Evaluate
Weigh the pros and cons of technologies, products and projects you are considering.
HTML5 platform helps digital signage, mobile apps liven nightlife scene
The CEO of a touchscreen technology company sheds light on how he used an HTML5 platform to bring his product offerings to mobile devices.
Rhon Daguro's planned career change from Silicon Valley software developer to restaurant-nightclub guru didn't materialize. However, during that time he spotted a customer need that led him to a new tech career.
Today, he is CEO of Nervana Group, which brings interactive touchscreen technologies to the hospitality and education industries. Getting service ready to enter the mobile sphere called for a new HTML5 platform that combined mobile and large experiential touchscreen technologies.
Serving up the latest trends
Daguro and his team initially used Adobe Flash to create immersive, experiential touchscreens and touch tables for restaurants and bars. When the idea of offering interactive mobile applications entered the picture, it became clear Adobe Flash was no longer a good fit for the growing company.
"The problem is that it [Adobe Flash] didn't perform," Daguro said. "It no longer was supporting what we call the human natural gestures that you would expect." In the early days of development, a touch and poke methodology was deployed. Modern techniques use a more organic approach, such as a touch, grab, throw, or touch, grab, swipe movement.
The Nervana Group has a strong mantra of focusing on the emotional impact its products create, which strongly fueled the features it was looking for in a new HTML5 platform. "We'd rather impress the living daylights out of you with small functionality, but huge immersive, huge expressive involvement of you moving things around in our interface," Daguro said.
The list of necessary platform features included:
Not proprietary
Multi-platform
Multi-channel
Quick development
Prebuilt libraries and gestures
Creating experiential design
At the end of the day, Daguro said the developers and marketers really drove the decision-making process. He had to take into account the skill set of his current software development team and the business needs of marketing. "They [marketing] were pushing for us to do multi-platform, multi-channel without having to write a lot code and they wanted us to build a prototype quickly so we could win business," Daguro said.
Several vendors were taken into account, including jQuery Mobile, Sencha and Appcelerator. While none of the current offerings fully met exactly what Daguro and his team were looking for, a tool that was advanced in digital signage and mobile capabilities, they ultimately decided Sencha would best meet its needs. "Sencha was very raw," Daguro said, "but we could take all of their gestures and couple it all together and chain them together to create what we wanted to build."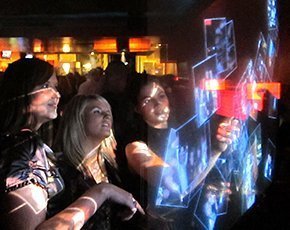 Nervana Group touchscreen technology
After the HTML5 platform implementation, Daguro said he learned a couple of valuable lessons. First was the importance of the mind and skill set of development team members. Older employees were used to using wrapper tools to bridge the gap and weren't as easily able to transition to the new framework. That being said, new developers who weren't exposed to the legacy systems seemed to pick up on the process quickly.
Second was the true value behind being able to realize a vision. With the new HTML5 platform, Daguro said he was able to do more than just sit down with a client and jot ideas down on paper. Instead, he is able to seal the deal by quickly being able to create a prototype. "It doesn't have to be perfect," he said, "but it has to be better than a PowerPoint diagram or Photoshop mockup, it has to live or have some sort of response or functionality."
Maxine Giza is the associate site editor for SearchSOA and can be reached at mgiza@techtarget.com.
Follow us on Twitter @SearchSOA and like us on Facebook.
Dig Deeper on Mobile app development