kitson - Fotolia
Manage
Learn to apply best practices and optimize your operations.
Hybrid integration gains popularity in the enterprise
The need for data interoperability, connectivity and improved customer service is helping to push enterprise adoption of hybrid integration into full speed.
Twenty percent of large enterprises have integrated at least two clouds, according to a survey by Technology Business Research (TBR). That number is expected to edge upwards, the Hybrid Cloud Customer Research report indicates, as the need for data interoperability, connectivity and improved customer service rises.
With the increased demand for cloud integrations, IT professionals will find a growing number of cloud products. TBR Senior Analyst Jillian Mirandi said the proliferation of cloud vendor choices is the result of a broader range of customers moving to the cloud. "With more and more cloud solutions coming to the market, they [early adopters] are purchasing different types of cloud solutions and moving more workloads to the cloud," she said.
Why go to the cloud?
More than 1,600 cloud purchasing decision makers worldwide were surveyed for the Hybrid Cloud Customer Research report. Nearly half of the respondents indicated the hybrid cloud was always part of their organization's plan, while 35% said unanticipated requirements created the need for the hybrid cloud. Approximately 20% of respondents said that while migration to the hybrid cloud wasn't part of their initial strategy, they were going to make the move because they wanted to evolve their capabilities.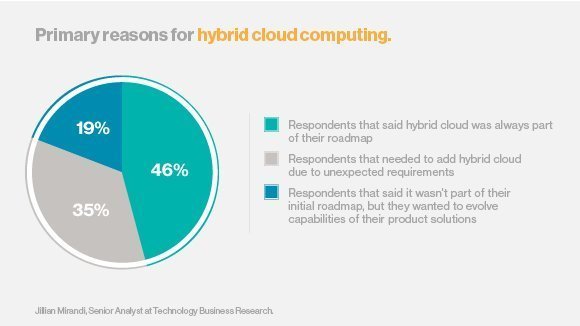 Mirandi believes that as the cloud market continues to mature and customers realize the benefits of the hybrid cloud, it will become part of an organization's initial strategy. "They know hybrid will be the end game of their planning for that as opposed to purchasing a bunch of things and then realize at the end they should connect them," she said.
The biggest benefit people said they were looking for was approved operational efficiency followed by scalability and reduced total cost of ownership, according to Mirandi.
After deciding it's time to move to the cloud, respondents said they were looking several key components for picking a hybrid cloud vendor. Top features included knowledge of cloud issues, IT infrastructure and industry issues. They also cited experience working with a complete line of cloud computing capabilities as important.
Barriers to hybrid cloud integration
The study revealed a gap between what organizations say they are going to do and what is actually happening. Mirandi said when TBR conducted a similar survey in 2013, respondents said that 80% to 90% of workloads would leverage the hybrid cloud. However, a much lower percentage of respondents indicated the migration had occurred.
Just because an enterprise may decide the time is now for the cloud, that doesn't mean they've carefully taken everything into consideration, said Mirandi. "When customers purchase different clouds, they might not know upfront how difficult some of the integration will be," she said. The lack of knowledge may be what is slowing down the actual migration to hybrid clouds.
In addition to the migration process being more complex than anticipated, there are other forces that can stymie the move. Security is the biggest barrier to hybrid integration and has been for years, according to Mirandi, and the integration of internal and public clouds to create a hybrid cloud is the second biggest hurdle. In order to bypass the obstacles, Mirandi said many organizations are building up skills internally. In some cases, organizations are seeking third parties to combine clouds.
Maxine Giza is the site editor for SearchSOA and can be reached at mgiza@techtarget.com.
Follow us on Twitter @SearchSOA and like us on Facebook.
Dig Deeper on Distributed application architecture