Is Mesosphere DC/OS right for your container management needs?
Mesosphere DC/OS provides organizations of all sizes with large-scale container orchestration and microservices management tools for a variety of container formats.
The Enterprise Datacenter Operating System (DC/OS) from Mesosphere Inc. is a data center-scale container management system used for elastically running containers and distributed applications at an enterprise level. While the system is known for its ability to run at very large scale, including thousands of nodes in multiple data centers, it is also suitable for small startups running across a couple of dozen instances in the cloud.
Mesosphere DC/OS is intended to help enterprises build, deploy and operate modern applications by simplifying microservices management and optimizing resource expenditures. The system supports multiple container formats, including Docker, Apache Mesos and rkt. It will additionally support the Open Container Initiative (once available), and support for Windows is under development.
Using the Mesosphere DC/OS container management system, businesses can deploy and manage distributed systems, such as Hadoop, Spark and Cassandra; orchestrate and manage production Docker environments; deal with low resource utilization by packing multiple applications inside containers on a shared infrastructure; and automate a continuous delivery pipeline on an elastic container runtime infrastructure.
How does the system help organizations run containers?
Mesosphere DC/OS works by using Mesosphere's primary container orchestrator for Docker containers, called Marathon. It is based on Apache Mesos, which enables the system to launch non-Docker workloads (such as Cassandra, Kafka, Spark, NGINX and many other specialized DC/OS services, including legacy applications) inside Linux container groups.
To help secure containers, Mesosphere DC/OS provides authentication, authorization and accounting controls at the cluster perimeter via integration with Microsoft Active Directory, Lightweight Directory Access Portal and Security Assertion Markup Language- or OAuth-based systems. It also offers built-in certificate authority to provide a public key infrastructure that secures all internal communication with Transport Layer Security among many daemons and agents.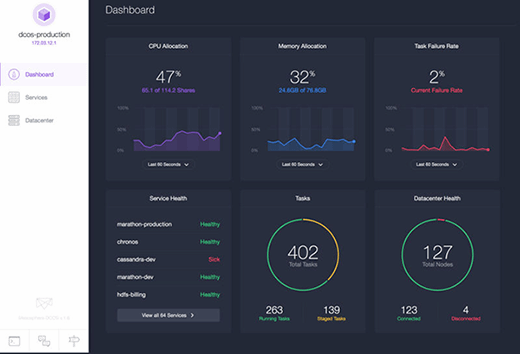 Mesosphere DC/OS uses a built-in identity and access management system that issues revocable JSON Web Tokens, ensuring fine-grained authorization of every request at multiple points of enforcement. Through container-level authorization using native Mesos modules, the system further enforces a particular user's entitled access control lists at every host level. Additionally, a built-in service provides encryption and microservices- or container-specific credentials both at rest and in motion, while making it dynamically available for consumption within the container.
Who benefits from using Mesosphere DC/OS?
Customers in many industries can use the Mesosphere DC/OS container management system to manage production Docker/microservices environments. The system is designed to be easy to install via a GUI installer, and provides a simple GUI or command line for users to launch and manage large numbers of containers. Similarly, users can take the same approach to access advanced networking and security features at the container level.
Users can also manage their containers on the same shared infrastructure required by their data services, such as stateful databases and storage and analytics systems. The same capability is available for continuous integration and continuous development environments.
How is the system licensed and priced?
Mesosphere DC/OS is available through subscription pricing based on the number of nodes (physical or virtual) in the user's environment. Subscriptions include either standard or premium support. Mesosphere also supports integration with DC/OS and data and developer services (e.g., Spark, Kafka, Cassandra and Jenkins). The company provides professional services and training, both directly and through systems integrators, IT consultants and channel partners.
For organizations that want to experiment with the software or that are dedicated open source shops, Mesosphere also launched and currently drives the open source DC/OS project. Additionally, businesses can access the Mesosphere DC/OS container management system via the Microsoft Azure Container Service.