Manage containers, cloud-native apps and more with the Apcera Platform
The Apcera Platform provides enterprises with a scalable container management system, as well as orchestration tools for microservices and cloud-native and legacy applications.
The Apcera Platform is a policy-driven management system for containers, cloud-native applications, microservices and legacy applications. It is designed to complement the existing tools that organizations and their development teams already use. The platform by Apcera Inc. combines a container management system and cloud management services with orchestration and security capabilities, allowing businesses to address current gaps in container technology. Enterprise customers can use the platform for greenfield applications or to move existing and legacy applications.
The Apcera Platform addresses the needs of enterprises of all sizes and is designed to scale as the organization's needs grow. Apcera can be used by organizations that need to manage thousands of containers at scale so that they do not have to piece together multiple products or constantly apply updates or patches to their environments.
How does the software help organizations run containers?
With the Apcera Platform, development, DevOps and operations teams can orchestrate microservices, connect to legacy systems and establish connections and dependencies between applications and services (databases, users, service requests, etc.) across different cloud providers or on-premises installations. The container management system enables image deployment, multicloud networking, workload scheduling and container resource management. Supported containers include Apcera's proprietary container format, Docker and Kurma, an Apcera-sponsored open source container runtime and operating system. Compatible operating systems include Ubuntu and CentOS.
Using the Apcera Platform, users can deploy verified images, integrate containers with production logging services, monitor the health of container workloads, automatically protect services' credentials, control resource consumption for container workloads and define which services can communicate with one another. The Apcera container management system also automatically containerizes applications written in today's most popular frameworks, including Rails and Node.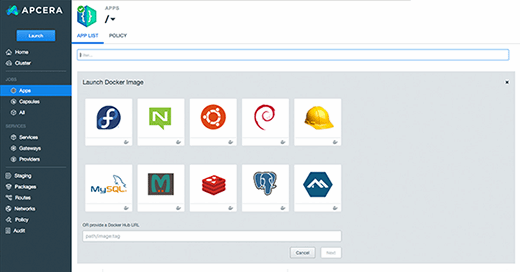 The Apcera Platform embeds granular policy controls in every lifecycle phase of a workload (including containers), from composition to placement and enforcement. The platform also ensures development agility with consistent governance for applications regardless of where they run.
In terms of security, Apcera's container management system leverages a combination of Linux kernel namespaces and control groups for process controls (CPU, memory, user isolation); and for file system isolation it uses mount namespace and chroot processes. The platform utilizes user namespaces to prevent exposure of the real root user, and for controlling network ingress/egress to the container, it uses a combination of network namespace and iptables rules. Moreover, Apcera's staging pipeline can enforce vulnerability checks during application build or source dependency enforcement by org domain. Apcera also provides ephemeral credentials and protocol restrictions for back-end services (databases, storage) for containers and enterprise authentication of users and API clients to the cluster.
How is the Apcera Platform licensed and priced?
The Enterprise Edition of Apcera Platform is licensed on a subscription basis, with pricing tied to usage. The Community Edition of the software can be downloaded at no cost and is a good option for small businesses or organizations looking for an initial test-dev environment to deploy, orchestrate and govern containers. For both editions, Apcera provides a dedicated support team and also works directly with system integrators and enterprise IT consultants to provide customers with personalized services and expertise.