 BACKGROUND IMAGE: iSTOCK/GETTY IMAGES
Get started
Bring yourself up to speed with our introductory content.
Mobile development platform pushes software company forward
Delivery of mobile applications has become paramount in today's market. Learn how one company found the perfect mobile development platform.
When Neel Sus attended a startup weekend event in Baton Rouge, La., a few years ago, little did he know that one of the tools he saw would help his company's progress down the road. As the CEO of Susco, a customized software solutions company, Sus saw the organization's offerings go from mainly internal desktop business applications to mobile applications.
With more clients wanting a mobile user interface for internal systems and mobile applications that work offline really well, Sus knew he had to shake things up. First and foremost, he didn't have developers well-versed in Objective-C, which was important for mobile development before the emergence of the iPhone SDK.
"We found ourselves in 2010 trying to basically be a SQL.net company, but then on mobile having to have this total separate tech stack leveraging, using Objective-C on our native apps," said Sus. "That definitely caused disruption from a manning point of view."
With the rise of Android devices, Sus' team found itself doing double duty. "The next thing you know, we're doing almost twice the work to get on mobile devices," Sus said.
Up to that point, Titanium was used for the company's mobile development platform needs. Although the tool made development more efficient, it was still text-based and therefore required a lot of work.
"With Titanium we got a lot of synergy in that the controllers crossed over, but you still had to redo the views on the different platforms," Sus said. "There was a lot of debugging we had to do on Android especially."
Along with the company's CTO, Sus began to investigate different tools. Given that Susco is a small operation, there wasn't an overly formal methodology used to weigh the pros and cons of each mobile development platform. That being said, the team was looking for a few must-have features, including the following:
Be graphically driven.
Leverage native functions.
Push notifications.
Track geolocations.
Function as a camera.
Integrate contacts.
Although several do-it-yourself applications are on the market, they didn't quite fit the bill. "What we saw with many of the providers was they either didn't let you code whatever you wanted to, or the ones that would allow you to code, like Titanium, didn't provide much graphical interface to really make it so a nondeveloper could do the bulk of the work," Sus said.
Sus had an "aha" moment when he remembered attending a 48-hour contest a few years ago. During the weekend event, he recalled looking at a mobile development platform a developer used to quickly build a functional demo application.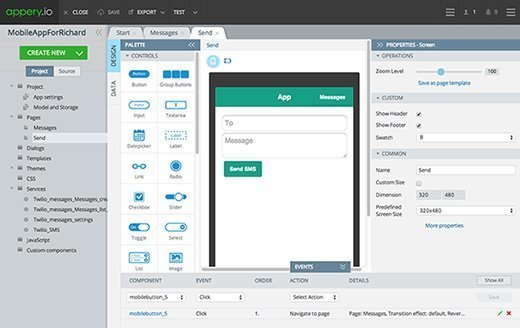 Since that weekend, the tool was rebranded as Appery.io. Sus and his team decided to give the mobile development platform a try. Tests were conducted and Titanium and Appery.io went head-to-head.
In what was described by Sus as a "simple project," it took about 1,000 hours of work with Titanium, plus another 300 hours of rework per platform that basically couldn't be completed by junior staff. "For that same project, we'd be able to execute in Appery.io for under 500 hours and in about half of that, or even three-quarters of the time, is somebody on the analyst side."
Overall, Sus said the implementation was relatively hassle-free. Although the team experienced a learning curve, it was what one would expect when learning a new mobile development platform. "It was very drag-and-drop," Sus recalled. If he would do anything differently, Sus said he would have obtained direct customer feedback from Appery.io sooner. "It's easy to get feedback from the lead developers internally there," he noted. "It's a very developer-friendly community."
Sus has some advice for those just starting out with mobile application development: Make sure you understand how application programming interfaces (APIs) work. "It's not really a matter of code," he said, "but understanding the concepts of how you get data from and to an API."
Maxine Giza is the site editor for SearchSOA and can be reached at mgiza@techtarget.com.
Follow us on Twitter @SearchSOA and like us on Facebook.
Dig Deeper on Mobile app development