Manage
Learn to apply best practices and optimize your operations.
SOA hits the mainstream: A look at SearchSOA.com Reader Survey 2011-2012
SOA shows maturity, success and even some signs of popularity in the SearchSOA.com reader survey. And the future is bright. For emerging mobile and cloud computing, SOA could be an essential enterprise ingredient.
A close look at service-oriented architecture (SOA) these days shows that this sometimes controversial approach to development and integration is becoming a mainstream software practice for many organizations. After one or two near-death experiences along the way, SOA is becoming established.
Moreover, SOA's use as a bridge between mission critical back ends and new mobile and cloud applications positions it for further enterprise inroads. Results from the SearchSOA.com Reader Challenges & Priorities 2011-2012 survey show that SOA users are finding success, and SOA even holds a bit of popularity.
When people are asked how they rate their organization's SOA success, "some, or acceptable, success" and considerable success" combine to represent 70% of responses (see Figure 1). Granted, this comes after (sometimes) more than 10 years of effort.
Still, respondents' use of SOA services for Web applications (50%) and data services (42%) place it in a key role for enterprise business transformation. Future plans for using SOA services on cloud computing or SaaS undertakings (51%) and mobile applications (52%) are even more striking. The software services approach that is inherent in SOA seems suddenly to be very relevant for a couple of big new objectives: that is for corporations to create mobile versions of applications and to explore cloud computing platforms for applications.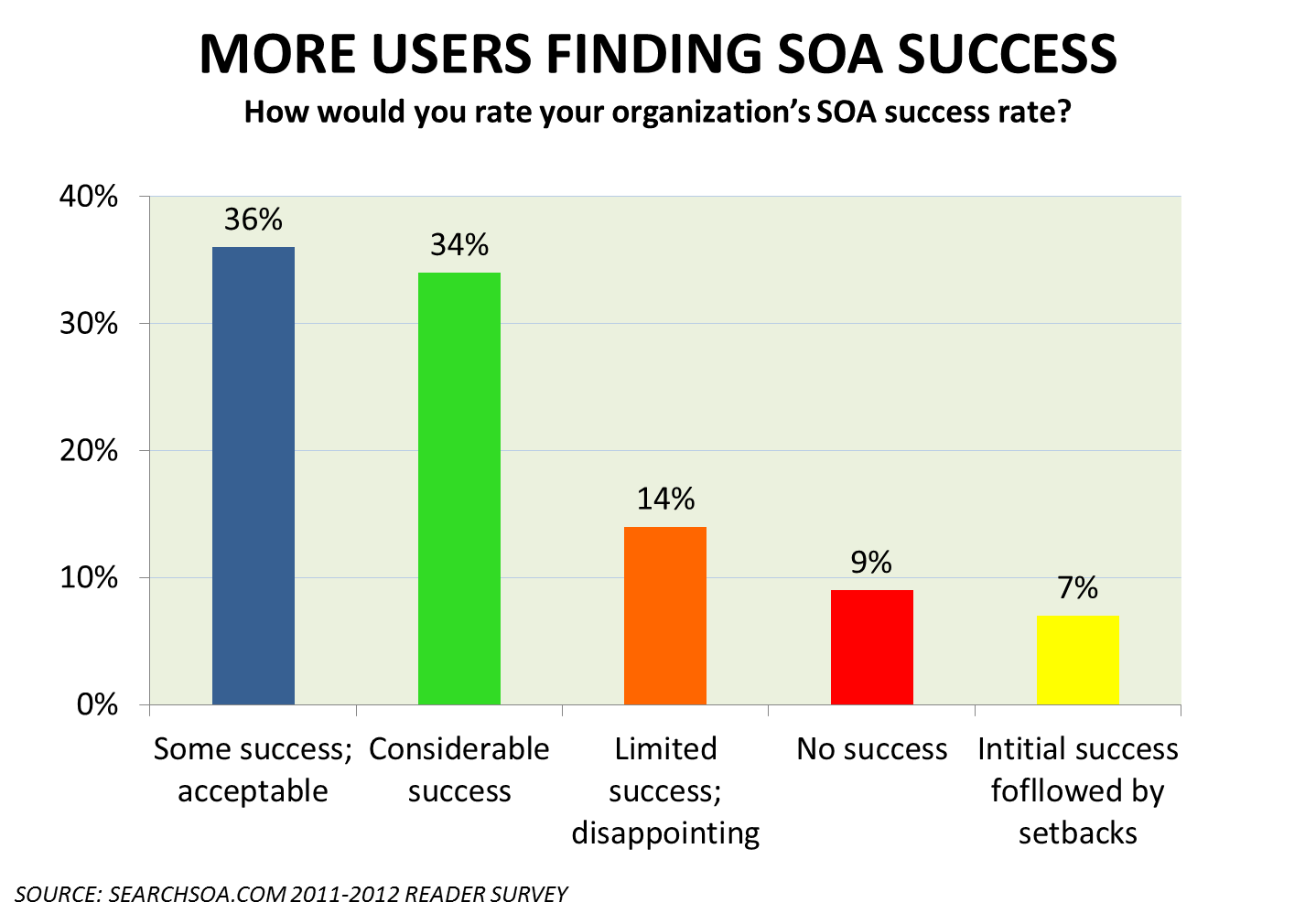 Figure 1: It's been a rocky journey at times, but SearchSOA.com research shows SOA successes growing.
Improved integration and flexibility are the primary drivers of SOA today - reuse is not as big a driver as it was in SOA's first incarnations. What both business and technologies managers want most to achieve with SOA is the ability to improve the flexibility of application development (20%). It leads other respondent top needs such as improving integration with business partners (13%), improving data integration (13%) and increasing re-use of components (9%).
The problems of enterprise development are complex, and SOA has not been an easy road. But the song of successful services has been heard across businesses. "I think we are finally learning from our mistakes – and finding better and better ways to deal with the issues. It is far from painless, but it is getting better all the time," said Maja Tibbling, principal architect at freight and logistics giant Con-way, Inc.
Can SOA become easier?
Can SOA become easier to use without losing its inherent qualities? This has emerged as a critical question.
The long years of efforts by SOA practitioners to partition tightly coupled software functions into looser services are seeing benefits, even as new front-end and back-end technologies emerge to further challenge practitioners' integration skills. This and the modern mandate to simply create new applications more quickly make SOA a lynch pin in the quest for flexibility today.
SOA tends to proscribe a 'right way' of doing things. It can seem to slow down projects – it can seem to be inflexible. But people have come to grips with its proscriptive nature, and they have come to see the flexible side of SOA.
SearchSOA.com's recent survey showed flexibility as a key SOA benefit. But some people may choose to exchange the term "flexibility" for the term of the moment: "agility." Some other people see a difference. Count enterprise architect Ramsay Millar among the latter group.
"'Agility' can be an overused term. On the other hand, I think 'flexibility' can be proven," said Millar, practice leader, Integrate IT LLC. People have come to understand that SOA has long-term benefit.
'The whole big problem with SOA is that, at heart, its strength is also its weakness," said Millar.
"If it was inherently a narrow thing we could do SOA in a heart beat," he said.
Some aspects are becoming easier all the time, says Con-Way's Maja Tibbling. "The nuts and bolts of SOA are becoming more embedded in every product with which we interact."
"Nobody questions anymore, that endpoint systems should be abstracted to enable agility and change as well as localize maintenance," she told SearchSOA.com. But the path forward must be navigated.
"The challenges are still about versioning and the ability of those messages to change to accommodate new requirements," said Tibbling.
Yet, the SOA experience has ultimately given confidence to SOA practioners.
As SOA pundit Joe McKendrick tells SearchSOA.com, SOA is not a technology that can be implemented within a few months' timeframe, "but a philosophy." It will, he tells us, transform the business itself.
Big change: REST services
The days when SOA leaned entirely toward enterprise computing - replete with remote procedure calls and big payloads of XML - is somewhat receding. That has positioned SOA to perform better in Web, cloud and mobile application integration, while still connecting their light-weight APIs to sturdy and established enterprise back ends.
A good share of respondents (44%) to the 2011-2012 SearchSOA.com reader survey indicate that mobile applications will gain more of the application integration budget within an organization in the next two years. That will tend to influence SOA to get lighter - as light as the mobile devices known as smart phones, which are coming on line for enterprise uses at a very rapid rate.
This would lead one to project that SOA has more room to grow. "SOA is just as revolutionary as the Internet," says enterprise architect Ramsay Millar, " but a lot of people haven't discovered that yet."
Mobile devices and remote services
SOA finds itself increasingly relevant as new technology architectures emerge. The 'services paradigm' upon which SOA is built has led the way to SaaS and other cloud services, with more in store as indicated by the mobile services uptick in the SearchSOA.com Reader Challenges & Priorities 2011-2012 Survey.
An expert who closely follows the business intelligence technology space sees an influx of SOA.
"In my research I see SOA very much permeating the information management-data integration landscape," said Dave Menninger, vice president and research director, Ventana Research. "Every data integration vendor wants to offer data integration services. They are making the data available as a service. They are also making the components of the data integration technology available as a service."
The bridge from SOA to SaaS and cloud also works as a bridge to mobile application development. But, naturally, SOA's role will evolve somewhat. Robust as they often are, handheld devices do have severe limitations. That makes for plenty of work on the server side, or, better put, the services side.
"What I see in a mobile context is that it is really driving a need for service-based offerings, said Menninger. "On the mobile devices, people will invoke remote services. SOA gives you the ability to make accessing those components practical on a mobile device." The lighter-weight version of SOA known as REST will be more prevalent as mobile services expand, agrees Menninger, who sees "a broadening of SOA." As 2012 unfolds, SOA services are showing utility for a wider swath of computing problems.
Includes reporting by James Denman, Alan Earls and Stephanie Mann.
[Editors' Note: The survey itself was fielded in December 2011.]