Thep Urai - Fotolia
Get started
Bring yourself up to speed with our introductory content.
Telecom company goes mobile with application monitoring
Head of IT operations Christian Dahl Nielsen discusses how he and his team selected an application monitoring tool to track customer usage of TDC's mobile offerings.
It's not enough to know how many downloads a mobile application gets. Organizations that want to succeed must know how customers experience the application, according to Christian Dahl Nielsen, head of IT operations at TDC.
For approximately the past five years, telecommunications provider TDC has been offering mobile applications to its customers. In the early days, tracking the number of downloads and the application's rating in the app store was sufficient. TDC's application had reached the stage where it was fully developed, said Dahl Nielsen, so he sought a mobile application management tool for live application monitoring.
Narrowing down the field
Along with a team of developers, Dahl Nielsen devised criteria that the mobile application management tool needed to be the best fit for TDC. The top must-haves were easy implementation, scalability and cost. "We didn't have a lot of time," he noted. "From the decision to go live and starting to gain value needed to be quick."
After conversing amongst themselves and with current vendors, the TDC team chose four application monitoring products for thorough evaluation. TDC used Hewlett-Packard's Internet ticketing system and business service monitoring tools, so it made the short list. Crittercism, New Relic, and a smaller tool (which TDC declined to name) rounded out the top contenders.
The team rated each vendor on a scale of one to five for the aforementioned key components. While certain aspects of each application monitoring tool were appealing, ultimately TDC chose Crittercism. "With the Crittercisim solution we could just plug in the SDK and we were up and running," said Dahl Nielsen. "With HP solutions, we needed to buy in our own hardware service and set up nodes."
Dahl Nielsen took the developers' input very seriously, as he felt it was important for the tool to have the support of those who would regularly work with the application monitoring tool. He said the developers were keen on Crittercism because of a feature it offered for correcting errors. "When you have the crash reports, and you can click on the reports and it pretty much takes you directly to the code that needs to be fixed -- that is a very powerful tool for a developer," Dahl Nielsen said.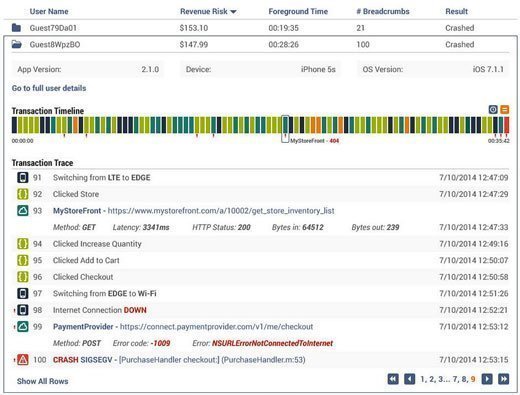 The implementation process went quickly, which was vital for TDC. "We just needed to implement the SDK, the app, and upload it into the app store," said Dahl Nielsen, who estimates it took no more than half a day to implement the SDK. The integration part took less than a week, he said.
Importance of proving value
There were many things that went right with the mobile application management project, according to Dahl Nielsen, who, being a department head, has worked in project management and in developing e-shops and customer forums. He credits his experience in part for the smooth transition and being able to gain approval from the company's higher-ups.
For IT leaders who are considering a mobile application management tool or sany other new product, Dahl Nielsen said it's important to justify spending money on it. In TDC's case, he said, highlighting the added value of an application monitoring tool was relatively easy, but honing in on the benefits is not always so obvious to those outside of IT. "You need to always be clear on that one or else you won't get funding," he said. "You need to be clear on what your needs are and how the purchase will fulfill them."
Maxine Giza is the associate site editor for SearchSOA and can be reached at mgiza@techtarget.com.
Follow us on Twitter @SearchSOA and like us on Facebook.
Dig Deeper on Application modernization