maxoidos - Fotolia
University IT team builds custom learning management system software
Brian Peddle, former CTO at Southern New Hampshire University, had to think outside the box to develop a custom learning management system.
A track record in higher education is something many colleges and universities look for in potential employees, but a lack of experience working in the academic world actually helped Brian Peddle. After spending 15 years working with human resources software, Peddle was brought on board as CTO at Southern New Hampshire University (SNHU) to get the technical aspect of the school's College for America competency-based education program running smoothly.
"I don't know how it was done before or how it should be done," Peddle said. "To me it was about how to get things done quickly, effectively, get a good user experience and move forward in the most cost-effective way."
Narrowing down learning management candidates
SNHU was using Blackboard, a Microsoft customer relationship management (CRM) system and a variety of other systems, but Peddle and his small team, consisting of a product manager and an offshore developer, didn't have time to integrate all the systems because they had only four months to complete the project. For higher education, there are programs tailored to admissions, financial aid and so forth, but nothing exists for the unique setup of a competency-based system.
Peddle knew he needed to nix the Microsoft CRM software the university was using because it wasn't overly easy to use, would require a great deal of development hours and would mean hiring a .NET developer. Blackboard proved to be pricey, especially when the 40,000 licenses needed were taken into account.
Although Peddle and his crew didn't have a long list of must-have features, a main criterion was that the learning management system software had to be highly adaptable; something that Peddle doesn't think is readily available with out-of-the-box offerings. "We were developing a new curriculum, a new program, as well as launching software to support that, so I needed that flexibility of not being locked in," he said.
Peddle had experience using Salesforce.com and he thought that, "at the end of the day, CRM is really like a student information system." With that in mind, Peddle and his team built a data model in Salesforce. They modeled the student information system and did an implementation with DocuSign and NewVoiceMedia to record coaching calls.
Making the grade
By June 2013, the team launched a beta version of its learning management system software, and it was generally available in October of that year. The IT team tried to integrate Salesforce and Canvas, but Canvas was designed to meet the needs of a traditional education environment. "It wasn't built for what we were trying to do, so we could hack it up, use Javascript to overwrite some of the language, try to turn features off," Peddle said. "You are really locked in to what you get out-of-the-box, you really can't extend it."
Canvas, in conjunction with Salesforce, didn't prove to be the way to ace the project. "We went out and pulled Canvas every 20 minutes after someone submitted work," Peddle said. "We'd pull that information back into Salesforce so we had a connector there." Despite developing a single sign-on to Canvas to streamline things for students, it simply wasn't working. Now everything but financial aid is done through Salesforce.
With the project complete, Peddle said in hindsight that the biggest challenge was integrating with legacy systems, some of which dated back more than a decade. "Some of these older systems are a black box, and triggers fire and you don't know what happened in there," he said.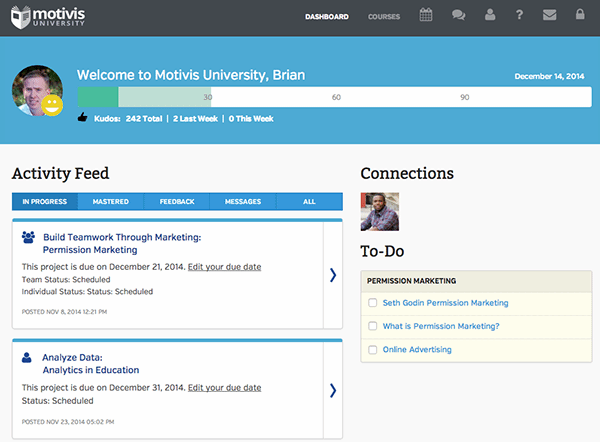 If Peddle learned one thing, it's that projects inevitably require more time than anticipated. "It takes longer than you think, and you really need buy-in from everyone," he said. Also, just as students are often taught to ask questions, the same skill is vital for IT workers. "In higher ed there is a lot of legacy thinking and no one asks why sometimes," Peddle said. "You can improve anything."
Today, Peddle is the CEO of Motivis Learning, an independent business owned by SNHU.
Maxine Giza is the site editor for SearchSOA and can be reached at [email protected].
Follow us on Twitter @SearchSOA and like us on Facebook.
Dig Deeper on Enterprise application integration