News
Stay informed about the latest enterprise technology news and product updates.
Will ''mobile business model'' influence the future of SOA?
Experts suggest that, going forward, the mobile worker and the consumer will be more central to successful IT planning.
The SearchSOA.com Reader Challenges & Priorities 2011-2012 Survey indicates that businesses are investing more in mobile apps: 44% of respondents said that mobile application integration and infrastructure software will gain more budget within their organizations in the next two years (see Figure 1). The natural question is whether—and how—the resulting needs of mobile application and integration development will influence the future of SOA.
In recent years, SOA has been forced to adapt to emerging cloud and mobile app development requirements. Limits to memory, storage and screen size on mobile devices have compelled developers to "chunk" services to better serve mobile users. Application design has transformed to address the vulnerability of mobile back-end systems. And the middleware has had to address the unique needs of a mobile space packed with diverse platforms and devices.
Perhaps more important is this: The rush to mobile applications could well lead both IT and business leaders to rethink their business architectures. Experts suggest that, going forward, the mobile worker and the consumer will be more central to successful IT planning.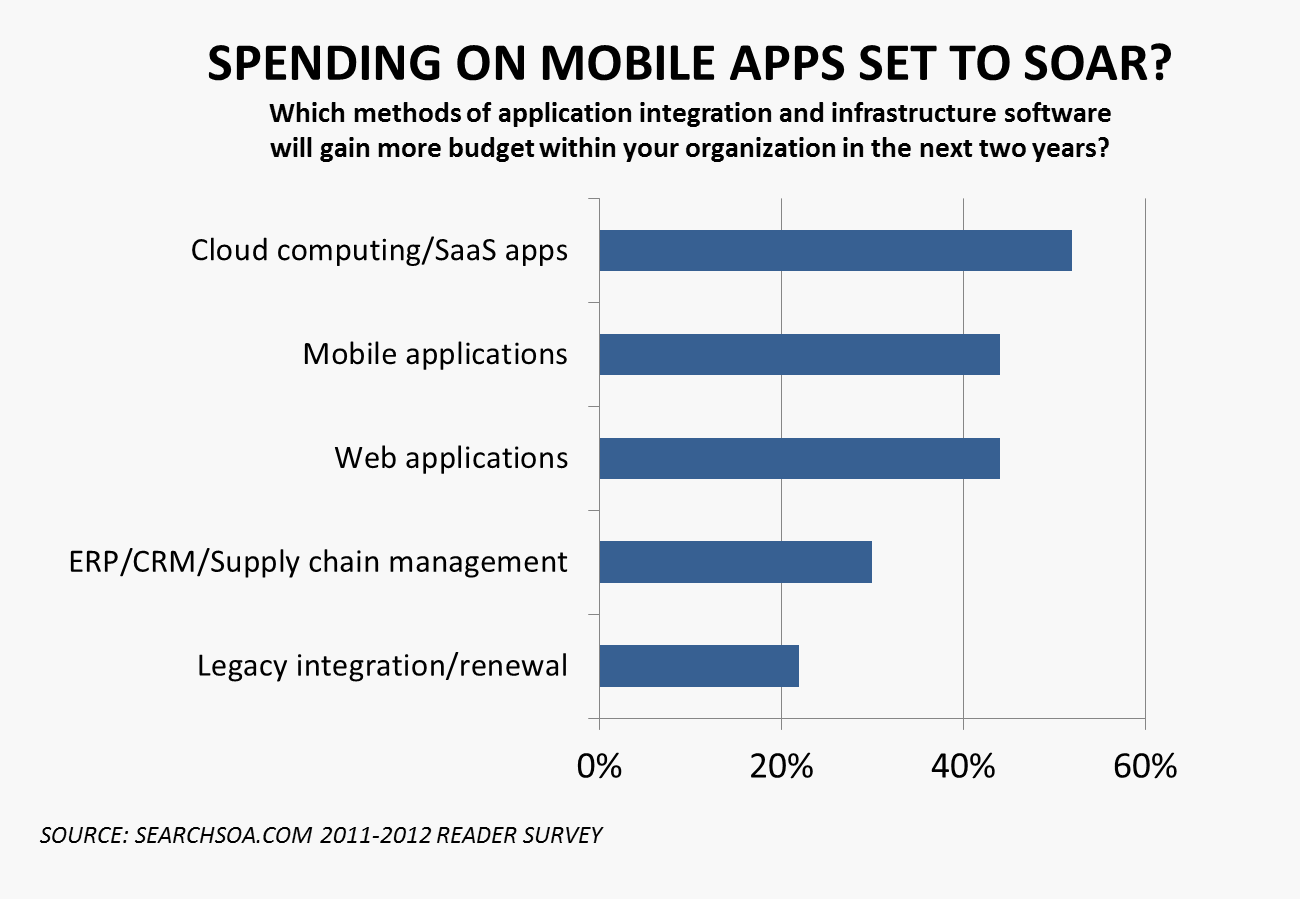 "Whatever we've done with SOA up to now, we've done in support of the traditional model of worker-productivity empowerment, because that's the only model we've had," said Tom Nolle, president of CIMI Corp., a telecommunications and media strategy consultant group. "If there's anything that's going to be the focus of re-conceptualized business processes, it's going to be the mobile worker."
As mobile expands, it shows signs of changing traditional business models. Increasingly intelligent devices are changing the way businesses operate, allowing workers instant access to information and providing them support faster than ever before. "That [the mobile] device is uniquely able to follow workers wherever they are—support whatever activity is essential to their productivity—means that that device is probably going to be a big part of how we do business in the future," Nolle said. The answer to how mobile will influence SOA, then, could depend on how mobile will change the way people do business.
According to Forrester Analyst Randy Heffner, mobile should not fundamentally change SOA—if it is being done well. He also noted that the transition to mobile is better for businesses with solid SOA infrastructure already in place. "If you're doing SOA well, it will be easier to do the things you need to do via mobile or any other platform," he said. "If you aren't doing SOA well, then maybe one of the impacts of doing mobile is it exposes the weaknesses in how you've been approaching the design of your services. And it feels like it's changing how SOA should be done when really you've just been doing it wrong."
The idea that implementing mobile will expose "bad" services design could be at the root of how mobile might influence the future of SOA: from the business-side. How businesses design services is linked to their business models. "Entering into mobile [points out] how you need to be designing much more around your business rather than application integration," Heffner explained.
SearchSOA.com survey respondent Howard Gunn, vice president of WorldView Network Services and author of The Basics of IPTV, reflected that as mobile needs become more widespread, SOA will have to change to further address the issues of security inherent in cloud and mobile applications. "We're not yet at the point of being able to trust a wireless device," he said. "Virtually any person using a wireless device today is exposed to hacks. As long as there are electronic wallets existing in cell phones, there will be electronic pick-pockets."
Gunn also pointed to the mobile device user as a prime driver of future change. "Today, complex applications are being driven by the device user," he said. "And eventually, business processes will move toward the consumer."
The rapid pace of device innovation on the front end requires flexible SOA on the back end.
"You don't know what the method of interaction will be in the future and your approach to SOA best not be dependent upon it," Heffner said. With the advent of the Web and Web browser, elements of software architecture changed drastically. More change is in store. The recent wave of "always connected" smart devices might be the next frontier of communication and customer engagement, but it certainly will not be the last.