Workflow management software hits all the right notes with record company
Vinyl record manufacturer owner Mark Calabro discusses how he chose a workflow management software product to meet his company's need for improved organization.
Mark Calabro always wanted to be part of the music industry. His dream materialized in his early 20s when he began working for a vinyl record manufacturer. During his 10-year tenure, Calabro did everything from sales to overseeing production. When the company shuttered its doors, Calabro was faced with two choices: Go down a new career path or start his own business.
Calabro went with the latter option and today finds himself owning 16 kHz. The Oakland, California-based manufacturing company works with various vendors to produce vinyl records and print record jackets. But, with just an Excel spreadsheet to keep track of workflows, things didn't always work harmoniously.
"We had a really nice Excel file that had all sorts of calculated fields and it worked," noted Calabro, "but Excel files can be broken easily, and if you have a bunch of people using them, you can erase something that shouldn't be."
Searching for a hit
At his previous job, Calabro used issue tracking software in addition to Excel and Salesforce to manage workflow and clients. Given his experience using software to enable employees to work together remotely, Calabro knew he needed something similar to bring 16 kHz to the superstar level.
Calabro doesn't have an extensive network of colleagues in the same line of work that he could get recommendations from, so he relied heavily on trial and error to select the most appropriate workflow management software. "I didn't know exactly what I needed," he said. "I just kind of learned about what I needed when I was searching."
That search entailed taking advantage of 30-day free trials that many software vendors offer. During that time period, Calabro quickly realized he wanted cloud-based software that worked within a browser so he wouldn't have to install software or deal with different operating systems. Also, Calabro isn't a programmer, so the tool had to be easy to use.
"I tried all these different softwares and most of them were very alike," noted Calabro. "We gave them all a shot." In the end, though, Comindware hit the right note. The decision was based primarily on the fact that Comindware made it possible to easily build custom workflows, and it's a task-based system.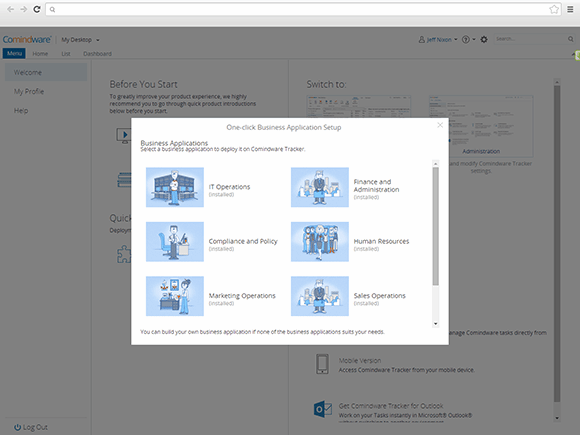 Coming into tune
Like a band learning to play a new song, there was a bit of a learning curve, but the overall implementation of the workflow management software went smoothly. "We had to put in our due diligence and build workflows from scratch and make sure certain reoccurring tasks were assigned to correct team members," said Calabro.
The first time around, it was "slow going," but once he got the hang of it, Calabro was able to create a workflow in a couple of hours depending on the project. "It kind of evolves while you are working on it," he said. "You start off with something simple and then you realize how much more technical, how much more elaborate you can make your workflows."
Looking back on the selection and implementation process of the workflow management software, there isn't too much Calabro would do differently. The only modification he would make is with some functionality in the Comindware software. When the workflow system was set up, it was created in a way that allowed employees to do a lot of work via email. While that is nice in some instances, Calabro would prefer to have his staff doing all of their work within the software itself.
Overall, though, Calabro feels that he ended up choosing a workflow management software that allows him to do everything he wants and needs. In fact, the tool has even given him a way to outperform others offering similar services. Unlike competitors, the team at 16kHz has the capacity to generate reports and more closely track the status of projects.
Maxine Giza is the site editor for SearchSOA and can be reached at [email protected].
Follow us on Twitter @SearchSOA and like us on Facebook.