News
Stay informed about the latest enterprise technology news and product updates.
Service-oriented cloud computing infrastructure guidelines released
The Open Group, a vendor and technology-neutral standards body, has released the first set of guidelines for service-oriented cloud computing infrastructure.
A set of standards for cloud computing infrastructure was released on Tuesday by the Open Group, a vendor- and technology-neutral consortium that creates standards and certification programs. It has authored a set of standards for service-oriented cloud computing infrastructure (SOCCI). The new guidelines draw from the Open Group's SOA reference architecture standards as well as its cloud computing workgroup. They are targeted at enterprise architects, SOA architects, infrastructure architects, IT strategists and other standards organizations.
"We first worked with the reference architecture itself both from a SOA and cloud standpoint," said E.G. Nadhan, co-chair of SOCCI and distinguished technologist at HP Enterprise Services. "Then we identified the architectural building blocks that would be critical from a cloud computing standpoint.
"Enterprises who are going the cloud route, who are deploying infrastructure in the cloud, can use this standard and apply these building blocks within their enterprise."
The Open Group describes SOCCI as, "the realization of an enabling framework of service-oriented components for infrastructure to be provided as a service in the cloud." In the group's view, the cloud standards help distinguish traditional infrastructure, which exists physically, from cloud infrastructure, which relies on virtualization.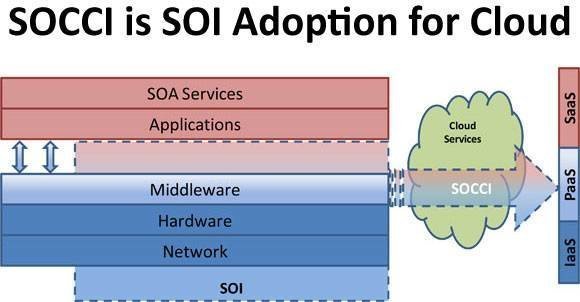 The new cloud computing standard divides the architectural building blocks (ABBs) into two separate sets – business and operational. The business ABBs are metering, billing and location management; the operational ABBs are virtualization, monitoring, capacity, performance, provisioning and configuration management.
Included in the standard for cloud computing infrastructure is a case study regarding a theoretical auto racing website that would include live streaming video, a backlog of videos dating back to 1909, live scoring and timings. The study explains how to apply each building block into a service-oriented infrastructure.
"What we have identified are best practices from both an architectural and design perspectives, and the rationale for why you need the building blocks and why they are placed the way they are," Nadhan said.
Nadhan says that SOCCI intends to socialize cloud computing standards with blogs and by building a community, hoping to get more feedback from the user base about how cloud infrastructure standards are being used and how well they are working. He said that while this is the first set of cloud computing infrastructure standards, there will be more to come.
"We have had some very interesting brainstorming discussions on how this can be extended [if the level of interest is high]," Nadhan said. "We intend to kick off other work streams as a sequel to SOCCI. There are many ideas being floated around. Consider this the first version."
The group intends to focus more on cloud governance in the future, a topic they do not have a detailed position on.
What are your thoughts? Email us and let us know.
Dig Deeper on Topics Archive