 BACKGROUND IMAGE: iSTOCK/GETTY IMAGES
News
Stay informed about the latest enterprise technology news and product updates.
Cloud, mobile headline Red Hat Summit and JBoss World 2013
The cloud is poised to be a major theme at this year's Red Hat Summit and JBoss World conference.
The cloud is king. That is likely the key takeaway Red Hat Summit and JBoss World 2013 attendees will get from this year's conference June 11- 14 in Boston, according to Craig Muzilla, general manager of Red Hat's Middleware Business Unit.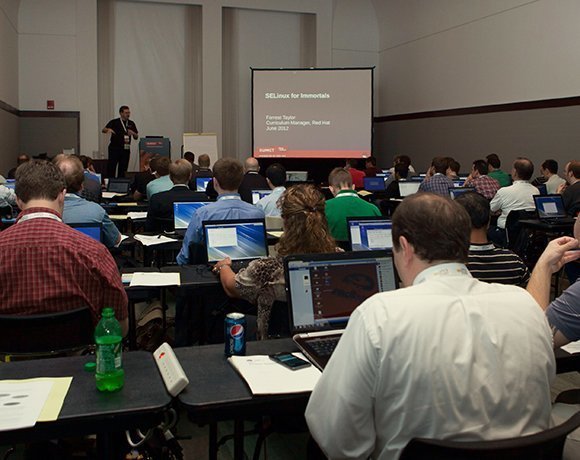 Recent Red Hat Summit and JBoss World session in action.
"I think the need for middleware is starting to change a lot because of cloud and the number of attributes that customers are looking for in a form of middleware technology," Muzilla said.
There has been a lot of buzz around early public cloud providers, such as Amazon, Muzilla said, with increasing interest inside of the enterprise and development in the cloud. The trend towards an open hybrid cloud, which offers greater portability capabilities than the public cloud, will be spotlighted at this conference.
"You need infrastructure that can help you run a public cloud, or be the public cloud, but you also have to have infrastructure that can run a private cloud and connect your traditional physical environment and be able to bridge those worlds and have portability of those applications between those worlds."
There will be more than 50 sessions encompassing cloud deployment. Among them will be Red Hat CloudForms Roadmap: Build and Manage an Open Hybrid Cloud Infrastructure, led by Principal Product Manager Xavier Lecauchois and Principal Technical Product Marketing Manager John Hardy. The duo will provide attendees with the technical know-how to put their own hybrid cloud into full gear.
In addition to presenting new developments and how-to sessions on open source cloud computing, Red Hat Summit and JBoss World sessions and keynotes will cover application development, mobile application development and infrastructure, the middleware side of emerging development languages and more.
The conferences will feature more than a dozen sessions on mobile application topics, as well as updates and tutorials on Red Hat's community project, AeroGear. The open source project's goal is providing tools for developers to build software and integrate back-end services on iPhone and Android smart phones.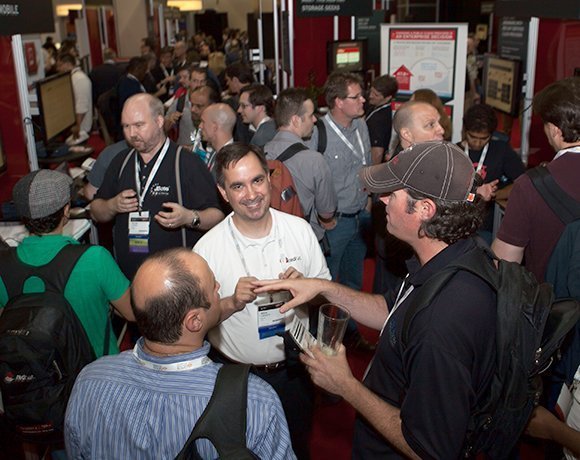 Recent conference attendees on the show floor.
Red Hat brings the open source perspective to mobile and cloud, which are gaining widespread adoption today, according to Muzilla. Mobile cloud is certainly a sweet spot, according to research firm Gartner Inc., which predicted 40% of mobile application development projects will use cloud mobile back-end services within three years.
Among the mobile development sessions will be, Mobile Makes Your Enterprise Go Boom (The Good or Bad Kind), with Red Hat Mobile Platform Architect Jay Balunas. In addition to discussing enterprise mobile application, Balunas will talk about AeroGear and other similar projects.
The conferences serve up several sessions for software developers who want get their feet wet or improve their skills with alternative programming languages. Muzilla said there is a need for middleware to be able to support Groovy, Ruby on Rails or a variety of different languages. That's the focus of Red Hat Middleware Solution Architect Jeremy Davis' session, Ruby for the enterprise with JBoss Torquebox. Participants will walk away from the discussion having made their own human resources application.
The four-day summit will also feature over 20 sessions on big data, clustering, development tools and cost savings. It will take place in Boston's John B. Hynes Veterans Memorial Convention Center.
Follow us on Twitter at @SearchSOA and like us on Facebook!
Dig Deeper on Topics Archive