Step aside Facebook, graph database use cases go beyond social media
While the most commonly known graph database use cases involve social media, it's not the only market to make use of the technology.
While Facebook may be the poster child for successful use of graph databases right now, social media companies aren't the only ones harnessing big data with the technology. At Big Data TechCon 2014 in Cambridge, Mass., Neo Technology Software Field Engineer Max De Marzi discussed a plethora of organizations benefiting from graph databases.
Where using a graph database makes sense
Before jumping on the graph database bandwagon, it's important to make sure the technology makes the most sense for an enterprise's particular goals. Organizations of all sizes can be sitting on valuable big data, but how to best extract meaningful information isn't always straightforward. In short, a graph is a very simple data model. Information can be pooled and presented in a way so relationships can be seen.
Dealing with data and tables filled with unnecessary information can boggle searches down. That is one of the major pitfalls of relational databases. In situations where time is of the essence, a graph database search can make the most sense.
"The reason for the graph is performance," De Marzi said. "You can take any data and fill in anything else and ask questions and you'll get an answer. The question is timing."
Another key benefit to using a graph database is that it allows users to search in a natural way. By using a Cypher query, users can find people who like "A" and those who like "B", and bring a list of people at the intersection back.
"Anytime you have two things that speak the same language … and you want to connect these things together, you can use a graph for that," De Marzi said. "It's really, really efficient."
Graph database use cases
De Marzi became acquainted with graph databases about four years ago when he embarked on his own job search. He was annoyed that after entering his resume and personal information on job posting websites, he still had to search for the perfect job. He wondered why such sites couldn't match him with appropriate careers.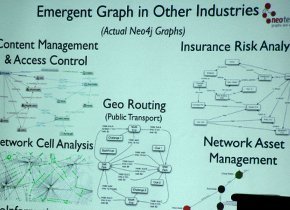 Graph database use cases slide from De Marzi's Big Data TechCon presentation
Fast forward to today, when companies like Glassdoor and CareerBuilder are able to match job candidates with employment opportunities based on location, skills and so forth. These kinds of websites are ideal use cases for graph databases because the technology delivers an immediate response.
Dating websites are another perfect match for graph database use cases. With the technology, users can enter specific criteria, such as location, to narrow down the list of potential partners. Geo routing companies trying to send packages from point A to point B are also good candidates for a graph database.
Graph database use cases can be used for serious scenarios, too, De Marzi pointed out. The tool can be used by pharmaceutical companies, for example, to find out what drugs will bind with a certain protein. Insurance companies looking to perform a risk analysis is another vertical market nicely situated to take advantage of graph databases.
About the author:
Maxine Giza is the associate site editor for SearchSOA and can be reached at [email protected].
Follow us on Twitter at @SearchSOA and like us on Facebook.