Thep Urai - Fotolia
Android Studio updates get strong reaction; Firebase grows into platform
At the 2016 AnDevCon conference in Boston, the chief of the Google platform developer relations team discussed upcoming plans for Android, Firebase and machine learning.
Programmers clapped at news that a coming update to Android Studio will bring new muscle to the integrated development platform.
Timothy Jordan, head of Google platform developer relations, also provided attendees at AnDevCon in Boston overviews of new features in Android Nougat OS and the Firebase mobile and web application platform.
Android Studio's version 2.2 upgrade will deliver "speed, smarts and Android upgrade support," Jordan said. Attendees applauded when Jordan mentioned that 2.2 will be three times faster to run emulator tests. He also said instant run builds will be roughly 10 times faster.
Other upcoming features include a drag-and-drop UI builder, a flexible layout editor and a layout inspector that can detect if anything is amiss with the application's layout. He also promised that developers will continue to be able to build the UI in XML, but it is no longer required.
OS beefs up its UI
Meanwhile, the new Android OS Nougat will introduce features targeted at the user interface. These include a multiwindow function, which allows activities to be performed side by side in either a split screen or picture-in-picture mode. Coders can even create custom parameters to the multiwindow view.
Other UI improvements include the ability to create custom tiles for apps, as well as a display adjustment that increases not just the size of text, but of the entire interface, including buttons and icons.
Productivity enhancements include improvements to data saver functions and scoped directory access. It will also provide updates to Android for Work, aimed at making it easier for users to keep both personal and work applications on a single device.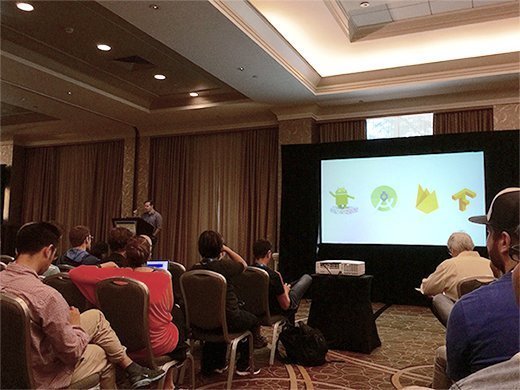 Firebase blooms as a full platform
Attendees also received an overview of Firebase -- a product that began as a backend as a service, but is morphing into a full mobile and web application development platform since its acquisition by Google.
Jordan explained that Firebase is now integrated with a number of Google services, including Google Analytics. This integration with Analytics, Jordan said, supports the developer's ability to detect information about user behavior and integrates with the application upon creation, without requiring additional code to be written by the developer.
The linking of Firebase with Google, Jordan said, provides easily configured authentication functions. Jordan also explained how the platform lets developers:
Reconfigure or modify applications without having to redeploy code.
Send apps to the Firebase test lab via the cloud to be tested comprehensively on the multitude of physical devices located in the lab before deployment.
AlphaGo takes home bragging rights
The final part of Jordan's keynote included a discussion about developments in the field of machine learning, highlighting that modern APIs have enabled developers to create intelligent applications that can perform high-level functions, such as recognizing the content of photos and text, and providing text translations into multiple languages.
Jordan showcased AlphaGo, Google's deep learning project that defeated Lee Sedol, the world's top player of the board game Go, in a turbulent and highly publicized series of matchups in March. Jordan added that Go was considered to be "the game that no computer could win," but AlphaGo taught itself the strategies needed to win.
Finally, Jordan demonstrated TensorFlow, an open source software for machine learning. In the demo, he explained how a neural network approach could create a function that recognizes handwritten numbers, doing so by measuring the unique weight of the handwritten number in terms of pixels and using that information to determine what number it is looking at.