Fotolia
Announcements at Alpha DevCon verify dev world's move to JSON data
Announcements made by Alpha Software representatives at the Alpha DevCon conference verified that the ability to work with JSON is a 'must-have' for businesses today.
The JSON data format appears to rule in the mobile application development space, exemplified by announcements made by Alpha Software at the Alpha DevCon 2016 event concerning its rapid mobile application development product Alpha Anywhere. Experts at the conference even went so far as to say that businesses that are not comfortable working with data in the JSON format risk falling behind in the application development race.
Alpha CTO Dan Bricklin, also known as the "father of the electronic spreadsheet," showcased improvements to Alpha Anywhere aimed at better supporting customers' ability to work offline and manage forms via tablets and smartphones.
However, Bricklin also made note of the company's efforts to make it easier for developers to work with data in the JSON format. For example, he noted how the ViewBox controller, which is designed to help developers create controls with specific behaviors, allows developers to work on JSON data directly, giving them more flexibility to create powerful applications.
"Alpha Anywhere has been constantly advancing to take advantage of JSON," Bricklin said.
In fact, Bricklin warned audience members that it is in the best interest of businesses and their developers to become comfortable working with data in the JSON format if they have not already.
The world has moved to the JSON format. You better all be comfortable with it soon.

Dan BricklinCTO, Alpha Software
"The world has moved to the JSON format," Bricklin said during his presentation. "You better all be comfortable with it soon."
Jason Wong, research director at the IT research and advisory firm Gartner Inc., verified that Bricklin's predictions about the importance of JSON data were accurate.
"JSON is REST, and REST services are pretty much the new way of integration," Wong said. "When you talk about APIs and integration, you're talking about REST."
Wong pointed out that the asynchronous, lightweight and discoverable characteristics of REST, in addition to its ability to facilitate integration and connect with APIs and microservices, make it attractive for modern developers. He also added that it is ideal for mobile apps, which tend to call services from multiple, diverse systems.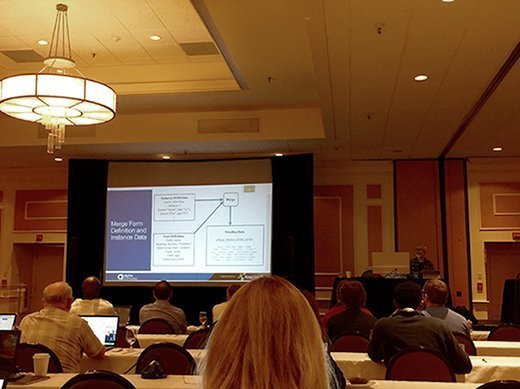 Wong did note that many companies are still reliant on legacy systems, such as older SAP and Oracle systems, that may not have REST services but rather depend on things like XML web services. API management tools and gateway tools will be required for these companies to transform these legacy services into REST services, he said, but he believes this is a necessary transition from both the perspective of the business as a whole and of the individual developers.
"If companies are not getting on that bandwagon, they should, because it is the way that businesses will need to connect with one another," Wong said. "It also makes it much more efficient for developers to reuse their systems and do much more Agile types of development."