News
Stay informed about the latest enterprise technology news and product updates.
Eric Parizo
Got a poll idea or a story idea for News Editor Eric Parizo? He'd love to hear from you.
---
Eric Parizo
News Editor, SearchWebServices.com
eparizo@techtarget.com
Click to email Eric a Poll Idea or a Story Idea. He'd love to hear from you.

For more articles by Eric, click here.
(
Go back to the Featured Topic )
---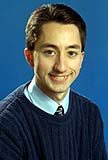 Eric is a veteran of both print and broadcast journalism. Before joining TechTarget in 2000, he spent time at CNN in Los Angeles, working on the production of long format news and entertainment pieces for CNN Newsstand. He has also worked on the assignment desks at WLVI-TV 56 in Boston, Mass. and WWLP-TV 22 in Springfield, Mass., in addition to producing a public affairs show for broadcast on cable television throughout New England. Eric is a graduate of Emerson College.
As News Editor, Eric's chief responsibility is writing original news articles. Working closely with TechTarget's talented editorial team, Eric develops story ideas pertinent to each industry-specific site and creates unique, enriching articles which cannot be found anywhere else on the Web. He also assists in constructing the news content in daily and weekly e-mail newsletters, as well as in Quick Takes, TechTarget's industry news round-ups. If you have an idea for a story you would like to see on this TechTarget site, e-mail Eric at eparizo@techtarget.com.
Dig Deeper on Topics Archive