News
Stay informed about the latest enterprise technology news and product updates.
Microsoft users love Windows 2000;hate forced upgrades, arrogant ways
Customer loyalty is not something Microsoft can take for granted, according to TechTarget's exclusive survey of Windows professionals. While respondents gave high marks to Win2000 Pro and Server, they are considerably less-impressed with the security, usability, support, reliability and overall quality of many of Redmond's other offerings. Even more significant: More than half of the 950 customers we surveyed are looking more seriously at Microsoft alternatives today than they were a year ago.
---
Market Analysis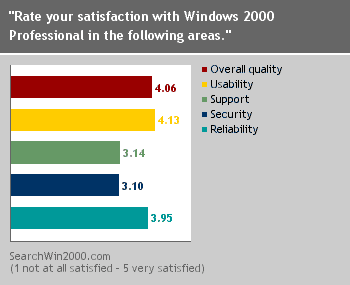 Microsoft still faces major challenges in moving away from its roots as an operating systems vendor, according to an exclusive survey of 950 Windows professionals conducted by SearchWin2000.
Microsoft customers said the software vendor finally "got it right" with the reliability of its Windows 2000 operating system and is still a dominant trendsetter in the IT industry. But they're less interested in, and less satisfied by, Microsoft's other server products, and are increasingly looking to buy non-Microsoft software.
The survey, conducted in March and April, measured user attitudes toward a variety of Microsoft products and policies. It showed that Windows IT professionals are generally satisfied with the Windows 2000 operating system, though there is widespread confusion about Microsoft's .NET initiative and uneasiness about security across the entire portfolio.
It was Redmond's frequent rollout of expensive upgrades, its prices and its treatment of customers that drew the most negative responses. Only 29 percent of respondents strongly agreed that "Microsoft's products offer good value for the money." Just 17 percent strongly agreed that the vendor "makes an earnest attempt to understand my needs." And a whopping 78 percent strongly agreed that "Microsoft requires me to upgrade too often."
"If Microsoft spends too much of its time telling people to 'take it or leave it,' we're going to leave it," says David Robinson, director of IT and computer programs at Pioneer Pacific College in Wilsonville, Oregon.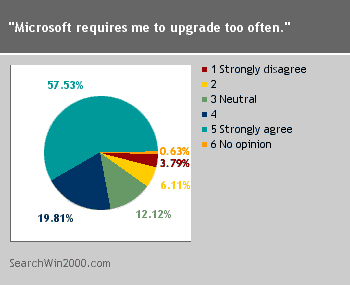 A spokesman said Microsoft is "working hard to clarify" its pricing policies through new licensing programs and efforts to educate customers about those programs. Microsoft is also planning changes to products such as Active Directory to make them easier to use, and wants customers "to upgrade on their own timetable (and only) when it makes business, financial and technical sense for them," the spokesman said.
Overall, most respondents ranked most Microsoft products in the average range for quality, reliability, security, usability and support. The exceptions were Windows 2000 Professional and Server, which scored high marks -- an average of four on a scale of one-to-five -- for quality, usability and reliability, though both fell into the low threes for security and support. "Windows 2000 is impressive, said Peter Schuelke, a network administrator for the city of Garland, Tex.," and I think they're finally beginning to get it right."
Security, a frequent source of complaints, garnered barely passable scores across the entire portfolio. Internet Information Server (IIS), the beleaguered Web server software fared the worst, racking up a less-than-impressive 2.13. Average user satisfaction ratings inched up to around 2.7 for Exchange, NT and XP but neither Windows 2000 Server or Pro broke out above 3.1.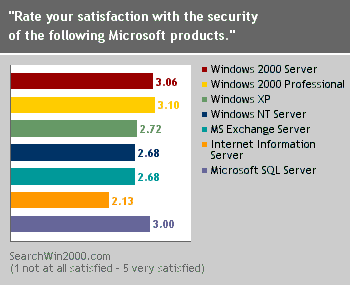 Microsoft "has earned its reputation as a firm that makes security 'Job Two,' said Jim Voorhees, a senior systems analyst with Indus Corp., a Vienna, Va. IT services firm, "and it will have to work devilishly hard to change it."
On ease of use, respondents gave fours to Win2000 Pro (4.13) and Win2000 Server (3.97). They were less pleased with the usability of Microsoft's older offerings, most of which fell in the slightly above average range. The Exchange messaging server, for one, "is sort of big and cumbersome -- it's way too much solution for a lot of settings," said Robinson. "To run Exchange 2000 you have to be running a full Active Directory structure, which means multiple servers and all the rest. It's way too much heavy lifting."
As for Microsoft's newer products, such as the XML-based BizTalk and Commerce Server, they are just too leading-edge to be of interest right now. "I'm looking at things 12 months down the road," said Eric Willemstein, systems implementation manager at Fascor Inc., a Cincinnati, Ohio-based developer of warehouse and logistics management software. "In the immediate future, it's not something we're going to be doing."
Microsoft has heard customer concerns on usability and is taking steps to improve it, a spokesman said. For Active Directory, for example, it offers free in-depth deployment guides on the Web, is working with other companies to build Active Directory deployment and management tools, and making enhancements in the forthcoming Windows .Net Server to make AD easier to manage and deploy. To strengthen security, Microsoft has announced a "Secure Windows Initiative," which includes "security-focused development processes" as well as rigorous internal and external testing.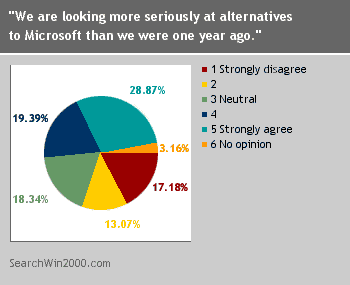 Still, half the respondents said they're more likely to look for alternatives to Microsoft than they were a year ago. GM Nameplate, a privately held manufacturing company in Seattle, ideally would upgrade from Exchange 5.5 to Exchange 2000 to increase the amount of storage it can allocate for its 350 concurrent users. But the company can't afford the approximately $20,000 price of upgrading to Exchange 2000, not to mention the costs of the upgrade to Active Directory required to run Exchange 2000, said Senior Business Analyst Connie Eaton. She's looking for a Linux or Unix-based messaging server to replace Exchange, but hasn't yet found one with the right features that would save her money.
Instead of Exchange, Pioneer Pacific College's Robinson is using SLMail from BVRP Software USA, which he called "much cleaner and easier" to manage than Exchange, and less expensive. Driven largely by price, Indus Corp.'s Voorhees is using some Linux-based firewalls, server clustering and storage server tools rather than Microsoft offerings.
GM Nameplate's Eaton is evaluating Sun Microsystems Inc.'s Linux-based Sun ONE Office (previously Star Office) productivity suite as a cheaper alternative to a company-wide upgrade of Microsoft Office. "We need to see a little more benefit to our company and not just to Microsoft" from such upgrades, she said.
"We know that customers are out there looking at alternatives," said a Microsoft spokesman. But he cited a recent Morgan Stanley & Co. survey of CIOs, which showed Windows 2000 deployment high on their list of priorities. "We're not taking this for granted. "We're working hard to continue to earn that customer loyalty."
Robinson, however, warned that if the Linux community could develop an office productivity suite that can work seamlessly with Microsoft Office files, it would be a "silver bullet" in Microsoft's domination of the corporate software market. "If the Linux gang can stay on track and produce such a suite," he predicted, "Microsoft is going to see IT professionals bail in very, very painful numbers."
Click here to view more charts from the survey.
---
This story originally appeared on SearchWindows2000, a TechTarget windows-specific portal for IT professionals.
---
About the Author:
Robert L. Scheier is a former technology editor at Computerworld, analyst with the Hurwitz Group, and is now a freelance writer and editorial consultant in Boylston, Mass. He can be reached at rscheier@charter.net.
For More Information:
Dig Deeper on Topics Archive