News
Stay informed about the latest enterprise technology news and product updates.
Mobile Orchestration: Using Web services to empower your mobile workforce
Dramatic advances in wireless Internet connectivity have organizations looking for ways to improve the productivity of mobile workers. As they are finding, unfortunately, technologies like WiFi and Intel's Centrino only set the stage for mobile workforce productivity growth. The real growth will come when mobile workforce software can take advantage of what is referred to as Occasionally Connected Computing (OCC).

In the role of Chief Technology Officer at IONA, Eric is responsible for IONA's technology roadmap and the direction of IONA's Rapid Integration software as relates to standards adoption, architecture, and product design.
---
Market Commentary
Eric Newcomer, special to SearchWebServices.com
Dramatic advances in wireless Internet connectivity have organizations looking for ways to improve the productivity of mobile workers. As they are finding, unfortunately, technologies like WiFi and Intel's Centrino only set the stage for mobile workforce productivity growth. The real growth will come when mobile workforce software can take advantage of what is referred to as Occasionally Connected Computing (OCC).
Organizations are understandably eager to leverage the potential of wireless connectivity. At the end of most wireless connections are a powerful and expensive laptop computer and an employee whose access to and interaction with enterprise systems is of critical importance. However, most organizations have gone about capturing the power of wireless connectivity the wrong way. Today's browser-based solutions assume many things, including a live connection, but there is a class of user and business problem where these assumptions don't apply. Organizations have to adapt existing and future systems to the occasionally connected world of mobile workers.
Mobile workers can be much more productive when they have access to the latest customer, product and other enterprise data, even without a network connection. And organizations are more productive when mobile workers can submit transactions to enterprise systems in real time, on the road.
This kind of productivity is available with standards-based technology called Mobile Orchestration. Mobile Orchestration offers huge value to organizations that struggle with OCC issues. For the occasionally connected worker, Mobile Orchestration offers dramatic productivity gains, even when they are not online.
Empowering the mobile workforce
The problem, of course, is that these mobile workers leverage only a small fraction of the power of their computers. Without an Internet connection, these workers are cut off from the enterprise systems and data they need to be fully productive. And even with a connection, the limited interactions these workers have with their organizations hardly justify the investment their employers have made in sophisticated computer hardware and software.
Advances in wireless connectivity provide the infrastructure for a better mobile computing experience:
Laptop computers rival desktop systems for power and versatility. Today's laptop is fully capable of delivering a rich user experience, and easily can support the demands of enterprise systems systems.

WiFi is the popular name for a wireless networking standard that is exploding in use. WiFi devices are being installed in hotels, airport terminals, restaurants and coffee shops, and everywhere else that travelers with laptops converge. And WiFi devices can deliver a 10 Mb/second wireless Internet connection (rivaling the speed of most office network connections) to any WiFi-ready computer.

Centrino is a new Intel processor chipset that combines mobility-optimized power consumption and other features with built-in WiFi support, giving hardware manufacturers the ability to deliver laptop and other computers that automatically detect WiFi availability and can even manage the inherent occasionally connected nature of WiFi.
Unfortunately, mobile workers need more than a laptop that knows how to handle occasional connectivity. Without software that understands, and takes advantage of, the kind of "intermittent Internet ubiquity" that is right around the corner, mobile worker productivity is only marginally improved by technologies like WiFi and Centrino.
This is the paradox of Occasionally Connected Computing (OCC).
This paradox is hugely important, because it affects a large and growing number of people. Estimates of laptop purchases today as a percentage of total personal computer purchases vary from 30% to 40%, and this proportion is expected to grow. Intel predicts it will ship 7 million Centrino laptops this year, and twice that number in 2004. An additional 30 million laptops in use today can be retrofitted for WiFi. This represents an enormous population of laptop computer users who could be much more productive away from the wired office network.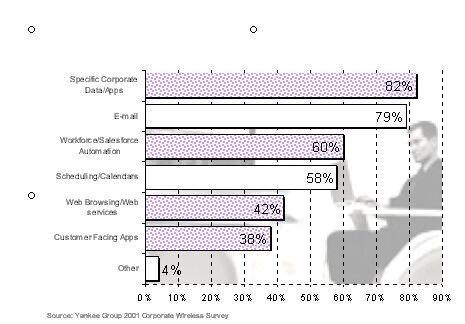 Applications driving enterprise wireless adoption
A look at the work style of a field sales rep in a pharmaceutical, financial services or high tech manufacturing company brings this paradox to life. These companies have big mobile workforces with similar requirements:
They need to interact with customers face-to-face, and they need timely access to data from enterprise systems, regardless of Internet connectivity.
They need to understand what a given customer has done before.
They need to understand how this compares to the performance of other, similar customers.
They need to initiate, and track, a variety of transactions, including authorizing and delivering product samples, and tracking orders and inventory.
They need to be up-to-date with such typical sales management activities as sales call schedules, meeting times and places, travel details, and e-mail messages.
They need up-to-the-minute, detailed information on the many, very complex products they sell. They also need up-to-date information on their competitors' products.
A typical connection-oriented day on the road
Imagine a sales rep travels with a new WiFi laptop for the first time:
The sales rep discovers that WiFi delivers a very fast connection in the airport terminal, without the fuss of telephone lines, local access numbers, and long waits for file downloads
The rep quickly sends email back to the office, asking for information about a competitor the sales team has learned that it is up against in this afternoon's account
The rep emails the previous day's activity reports to the office
While waiting for the flight to board, the sales rep also downloads email that, with luck, includes the account information and files the team asked for the day before
Finally, the rep opens a Web browser to the company's portal, manually downloading account and product Web pages
The sales rep waits as long as possible for files to arrive, but as the flight prepares to leave the rep shuts down the laptop and boards the plane
In the cab ride to the meeting, the sales rep tries again to download information, but the WiFi connections are too erratic for the rep to log into the portal, look for material, and download it, and so doesn't get the documents the team needs
The typical Occasionally Connecting Computing experience
An occasionally connected day on the road
For most mobile workers today, even having a network connection is of limited use. Assuming the worst about workers' frequency and speed of connection, organizations typically provide these users with portals, Web applications, or mere e-mail. The rich interaction with the enterprise that workers have at their desks is nowhere to be found on the road.
This kind of connection-oriented experience ignores the way people and businesses work. Mobile workers need to participate in business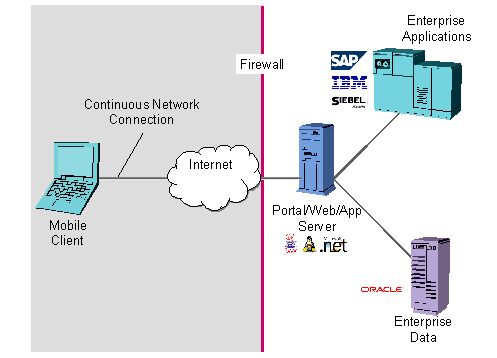 processes that are collaborative, and typically involve long-lived interactions. They need to work with enterprise systems and interactions, getting information they need to do their jobs and supplying intelligence the organization needs to remain efficient and effective. And they need to do all of this regardless of whether they are online or offline.
Here's another, occasionally connected, view of life on the road for the same mobile worker. In this version:
The sales rep spends downtime in the plane browsing through an offline interactive catalog of company and department content, subscribing to the specific documents and categories of documents the team needs for that afternoon's meeting.
The rep also updates a laptop-resident application on competitive insights the team gained during a conference call before the flight, and posts the transactions for transmission back to the corporate office.
As the rep walks through the airport terminal, the laptop and the software running on it detect a WiFi hotspot and automatically establish a connection with the company's network.
The sales rep takes advantage of the WiFi hotspot in baggage claim to connect with the company's network, whereupon the queue of data requests are executed in the background, the requested files and materials are downloaded, and the application updates and other submissions are automatically uploaded and integrated with a variety of backend corporate systems.
When the sales rep arrives unexpectedly early at the next call, there is an opportunity to launch versions of enterprise systems running on the laptop to study up-to-the-minute data.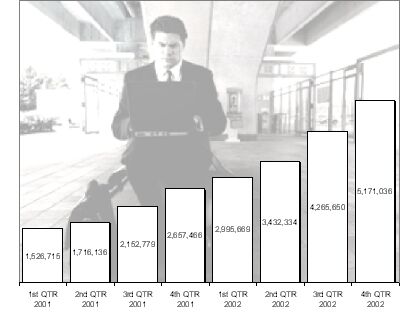 Since the beginning of 2001, WiFi equipment sales for home and office clients have more than tripled

The availability of laptop computers that rival the power of desktop computers has begun a mobile workforce revolution. Now, an entire population of sales representatives, consultants, field technical specialists, and other mobile workers carry computers as part of their jobs, and use their computers to do work. Obviously, this occasionally connected user works in an entirely different – and far more productive – fashion than the first, even though each user has access to laptops and WiFi. What may be less obvious is that the second scenario isn't a speculative portrait of the near future. This OCC experience is being delivered to customers today. They – like the second sales rep – leverage Mobile Orchestration technology.
Mobile Orchestration
Today, most applications for mobile users assume a wired network connection. Switching to a connected/disconnected model, which today's hardware and wireless connectivity capabilities allow, makes these applications behave erratically and outside users' requirements. The applications also typically rely on a thin client – a laptop application, like a Web browser or an e-mail package, with limited functionality – for all interactions with corporate IT systems.
The first sales rep scenario graphically illustrated the implications for mobile workforce productivity of these design assumptions. Mobile Orchestration begins from a different set of assumptions:
It correctly assumes that the mobile worker can leverage such technologies as WiFi and Centrino to be occasionally and intermittently connected to the network, and it drives the design of systems accordingly.
It also assumes that the worker has access to a powerful computing device, capable of supporting a rich user experience with or without a network connection, and that organizations want to better leverage this computing power.
Finally, it assumes that organizations have a collection of enterprise systems that can and should be extended to mobile users, to make them more productive in their jobs and to improve the timeliness of enterprise data.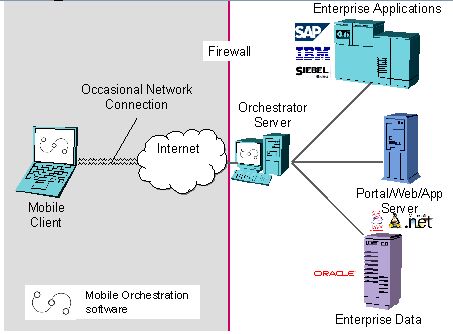 Improving the Occasionally Connected Computing Experience with Mobile Orchestration
With these assumptions as a jumping off point, Mobile Orchestration succeeds in making mobile workers more productive by leveraging the computing power at both ends of the connection. Systems that incorporate Mobile Orchestration help mobile workers in the following ways:
They mask the distinction between being connected or disconnected, allowing mobile workers to make fulltime use of their occasionally connected computers and make productive use of "down" time.
They eliminate the latency problem of Web-based applications – where users spend most of their time waiting for information to appear – by automatically exchanging content and data whenever a connection is detected.
They shift much of the computing burden of supporting mobile workers to the workers' own machines, automating application processing by the user's machine during down periods, whether the machine is online or offline
They provide intelligent, reliable connectivity, with the ability to sense the type and speed of the connection and transmit documents when appropriate.
They exhibit great flexibility and adaptability, thanks to occasionally connected clients with intelligence derived from locally embedded business processes models (changes to which can be downloaded automatically without requiring application reinstallation).
Mobile Orchestration is a term for a new approach to occasionally connected computing. Mobile Orchestration makes enterprise systems work together in ways that are useful to the mobile worker, and then leverages the other breakthrough technologies mentioned here to present a rich, integrated and productive experience to the occasionally connected user.
How Does It Work?
Unlike a lot of technologies that have been used to connect computer programs, Web services are very well suited to the needs of mobile workers.
Most software integration technologies are best suited to short-lived interactions and quick bursts of information exchange. Web services are well suited to the kinds of long-lived interactions that mobile workers experience.
Most integration technologies are designed for recurring, well-defined interactions between computer programs. Web services are well suited to the kinds of complex interactions driven by business rules or processes that mobile workers experience.
Most integration technologies require that software from a single vendor be installed at both ends of every connection. Web services are an open standard that can connect virtually anything to anything else, and therefore are well suited to mobile workforce applications where connecting a variety of client and backend systems could be a requirement.
Most integration technologies operate at a relatively technical level. Web services, by contrast, are designed to represent high-level, recognizable business processes. This makes them highly suited to Mobile Orchestration applications where –as the name suggests – the goal is business process coordination and orchestration across boundaries of space, time and people.
At the heart of Mobile Orchestration is an industry standard software technology called Web services. Web services let computers programs talk to each other over the Internet. Mobile Orchestration – which is all about linking enterprise systems to applications running on mobile workers' laptops – relies heavily on Web services. Because Mobile Orchestration is based on open Web services standards, it makes it possible for all types of applications to be easily integrated into Mobile Orchestration systems. The result is systems that behave according to automated business rules that themselves model collaborative interactions between users and enterprise systems.
The value of Mobile Orchestration
More effective utilization of laptop and enterprise system investments
Dramatically improved sales call performance
Much better response times to customer questions and inquiries
Reduced costs of processing paperwork
Dramatic savings through automation of a variety of operational and backend activities
Improved the timeliness and quality of enterprise information, as gathered and processed by enterprise systems
Improved and more effective distribution of internal analysis and data to field personnel
Providing our traveling pharmaceuticals sales rep with Mobile Orchestration software brought about dramatic changes to her work style. Giving her continual, process-driven access to enterprise applications and information resulted in
Conclusion
Mobile Orchestration is a term that describes an approach to systems architecture that
acknowledges and takes advantage of occasional connectivity
provides mobile workers with applications that are always available and always useful, regardless of network connection status
leverages the power of laptop computers and the growing availability of wireless connectivity to work in an automated, process-driven fashion on behalf of the mobile user whenever a connection is detected
---
---
For More Information:
Looking for free research? Browse our comprehensive White Papers section by topic, author or keyword.

Are you tired of technospeak? The Web Services Advisor column uses plain talk and avoids the hype.

For insightful opinion and commentary from today's industry leaders, read our Guest Commentary columns.

Hey Codeheads! Start benefiting from these time-saving XML Developer Tips and .NET Developer Tips.

Visit our huge Best Web Links for Web Services collection for the freshest editor-selected resources.

Visit Ask the Experts for answers to your Web services, SOAP, WSDL, XML, .NET, Java and EAI questions.

Choking on the alphabet soup of industry acronyms? Visit our helpful Glossary for the latest industry lingo.

Couldn't attend one of our Webcasts? Don't miss out. Visit our archive to watch at your own convenience.

Discuss this article, voice your opinion or talk with your peers in the SearchWebServices Discussion Forums.
With high-speed wireless Internet connectivity growing increasingly common, organizations with large mobile workforces think they have found a way to get more synergy from the combination of people, mobile computing hardware, and back-end enterprise systems. What these organizations are finding, however, is that mobile computing using technologies like WiFi is not enough. Real improvements in mobile workforce productivity will only come with better integration of mobile workers and their computers into occasionally available distributed business processes. Mobile Orchestration technology lets organizations build just these kinds of systems for mobile workers. It is an entirely standards-based process for building applications that thrive in an environment of Occasionally Connected Computing. Unlike static, browser-based Web applications and portals that only work when there is a connection and the user is at the controls, applications built with Mobile Orchestration technology fully exercise the power of today's laptop to deliver rich connectivity to enterprise resources, with or without a network connection. Copyright 2003, Eric Newcomer and IONA. Printed with permission. IONA is a leading provider of Rapid Integration software with more than 4,500 customers worldwide.