Evaluate
Weigh the pros and cons of technologies, products and projects you are considering.
Top IT job trends you need to know about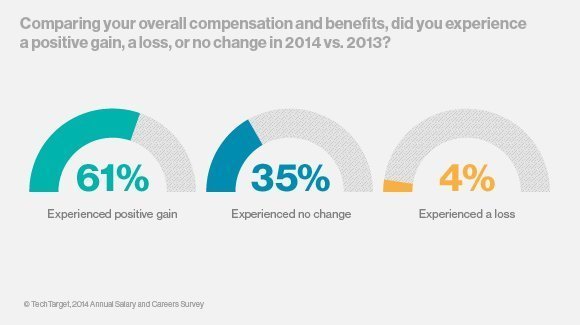 Ever wonder if your pay is comparable with the people cranking out similar work at the competition? If your base salary hovers around $110,000, you aren't doing too badly.
The average IT salary reported, not including bonuses, was $113,040. The highest salary was $250,000, with the pay scale diving to $28,000 for the lowest paid workers. Things look even rosier when the total compensation (salary and bonuses) is taken in to account. The minimum remained at $28,000, but it maxed out at $450,000. The average reported compensation package held strong at $126,306. Overall, this marks an upward movement for those working in application development and design. Last year, the average IT salary was $110,142.
When compared to 2013, 61% of respondents reported experiencing a positive gain in overall compensation and benefits. A large group, 52%, indicated they received a raise, while 36% of respondents received a bonus. These numbers are practically the same for raises and bonuses, 55% and 35% respectively, last year.
While a sizeable number of respondents indicated they received a raise within the past year, the amount wasn't out of the ordinary. The average respondent indicated a 4.5% raise in base salary, with the lowest reporting a meager 1% increase and the highest at a whopping 30%. This marked a slight decreased from 2013, where an average 5.8% raise was reported. Bonus size also varied significantly with the average amount being $20,699. This is on par with 2013 as well, where the average reported bonus was $21,050. The lowest reported bonus was just $16 with the highest reaching $170,000.
Nearly half of respondents expect to gain in total compensation next year. Forty-four percent of respondents anticipate a raise and 21% expect a bonus. For the most part, the expected increase isn't far off from what was reported this year. The average anticipated salary raise sits at 3.9%, with 1% on the low end and 20% at the high side.
NEXT: Budget and staffing trends
View All Photo Stories