Evaluate
Weigh the pros and cons of technologies, products and projects you are considering.
Top IT job trends you need to know about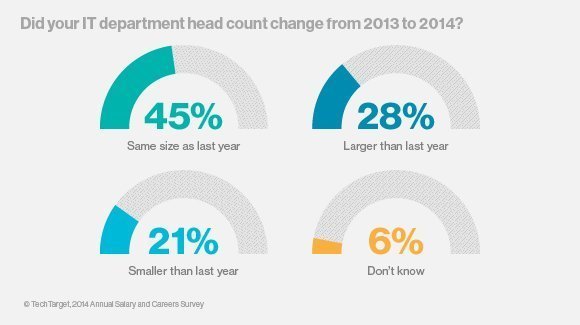 Money and staffing woes don't seem to plague IT departments. Only 15% of respondents indicated their IT department budget would be smaller than last year. The average reported IT department budget decrease dipped by 8%. On the other hand, twice as many respondents, or 30%, said they were working with budgets larger than in 2013. In fact, the average budget increase was nearly 12%.
Staffing size appears to be remaining steady, with 45% indicating their IT department headcount stayed the same from last year, 28% indicated an upward swing and 20% noted a decline. For those who reported a growing department, the average increase was by nearly 15%, whereas the average reduction was 8%. Furthermore, one-third of respondents indicated their organization was looking to make new hires and 26% said they were already fully staffed.
NEXT: IT pros' most consuming thoughts
View All Photo Stories