Evaluate
Weigh the pros and cons of technologies, products and projects you are considering.
Top IT job trends you need to know about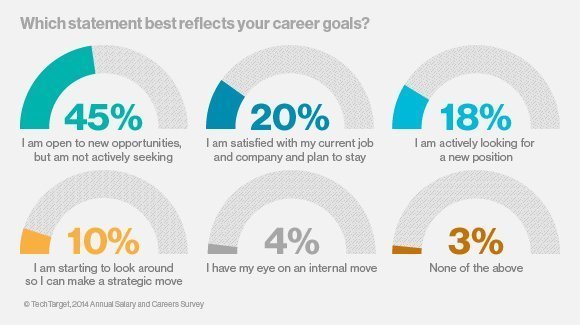 While some people have been awaiting for an uptick in the economy so they can pursue IT career options elsewhere, that kind of move doesn't appear to be at the top of the to-do list for most professionals.
The majority, 65%, of respondents indicated they are either satisfied with their current job and company, or are open to new IT career options without actively seeking a new position elsewhere. On the other hand, 28% indicated they are actively pursuing new opportunities or in the early stages of making a move.
While some people plan to make their next big career step in a new organization, others indicated their current company may be the best place to make their aspirations come true. Within the next three to five years, 20% of respondents said they hope to move up within their current company and 17% indicated an interest in moving higher in their IT organization. Of those looking to be a mover and shaker elsewhere, 17% want to make waves at a larger company while 6% think a smaller place will allow them to shine. Furthermore, 7% are done investigating IT career options and want to transition into a business position.
NEXT: Glum IT department workers
View All Photo Stories