Evaluate
Weigh the pros and cons of technologies, products and projects you are considering.
Top IT job trends you need to know about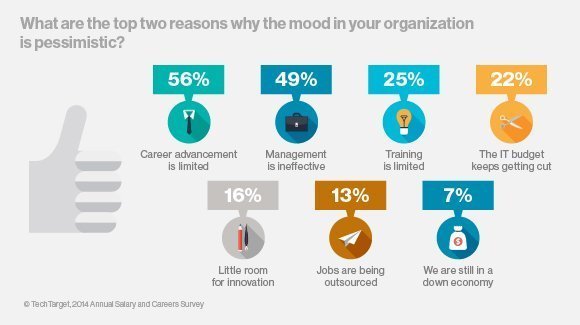 Even though most IT professionals surveyed aren't planning to change employers, they are not optimistic about the long-term IT career outlook.
When asked to describe the mood of their IT department, 26% of respondents described it as optimistic, in contrast to 34% reporting pessimistic. The remaining 40% had neutral feelings. This marks a slight change from last year, where 32% of respondents described the mood of their IT department as optimistic and 26% said pessimistic.
What is causing application development design workers to have such a gloomy IT career outlook? Of those who don't see the glass as half full, 56% indicated limited career advancement for their sentiments. Nearly half indicated that management was the problem, while one-quarter pegged limited training as the root of the problem. Similarly, poor career opportunities and management were the two leading factors for pessimism chosen by respondents last year.
The key to having workers with a positive IT career outlook may stem back to the type of environment management cultivates. Of those who said they were optimistic about the future, 52% said it was because innovation is encouraged. Another 31% said having a strong management team and 19% highlighted increased training as reasons for their upbeat perspective. Not surprisingly, good economic conditions also play a part in IT career outlook, with 45% citing an uptick in business as a reason to be optimistic. Similarly, these were the top reasons last year's survey respondents said they were optimistic about the future.
What the future holds appears to be up in the air. Thirty-six percent of respondents predicted the mood in 2015 will be more optimistic in their IT department, compared to 28% predicting it will be less and 36% saying neither way.
View All Photo Stories