API design and development tools
There are API design and development tools for almost any scenario you can imagine. Unfortunately, it's not always easy to pick the right combination of tools to meet your needs. Our experts explore available cataloging, model enforcement, code generation and API testing tools, as well as how to choose the right sets of tools for your goals.

Download this free guide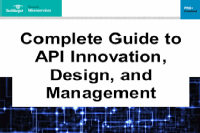 Your Complete Guide to API Design and Management
APIs allow organizations new and old, large and small to drastically improve the speed and efficiency of their operations, but getting to this point with APIs can be difficult. Read this guide to learn our experts' best practices for designing and managing APIs.