API design and development tools
There are API design and development tools for almost any scenario you can imagine. Unfortunately, it's not always easy to pick the right combination of tools to meet your needs. Our experts explore available cataloging, model enforcement, code generation and API testing tools, as well as how to choose the right sets of tools for your goals.

Download this free guide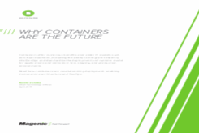 Free Download: Why Containers are the Future
In this white paper, you'll learn how containers are revolutionizing deployment, enabling microservice architecture and DevOps.