Data integration tools
The challenge of data integration increases with every application and service that enters the scene. In these articles, our experts dive into the challenges of integration, explore the benefits of today's data integration tools and discuss strategies that help software teams stay connected to critical application data sources.

Download this free guide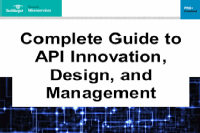 Your Complete Guide to API Design and Management
APIs allow organizations new and old, large and small to drastically improve the speed and efficiency of their operations, but getting to this point with APIs can be difficult. Read this guide to learn our experts' best practices for designing and managing APIs.