Data integration tools
The challenge of data integration increases with every application and service that enters the scene. In these articles, our experts dive into the challenges of integration, explore the benefits of today's data integration tools and discuss strategies that help software teams stay connected to critical application data sources.

Download this free guide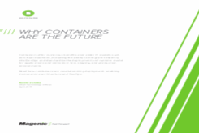 Free Download: Why Containers are the Future
In this white paper, you'll learn how containers are revolutionizing deployment, enabling microservice architecture and DevOps.