Evaluate
Weigh the pros and cons of technologies, products and projects you are considering.
Deployment Profile: Yellow Transportation delivers three Web services, part two
We take an inside look at how Yellow's Web services work, at the challenges faced by Yellow when building them, and on the lessons the company learned during the process.
---
The Web Services Advisor
(To receive this column in your inbox,
click Edit your Profile and subscribe.).

Continued from Part One
The Fortune 500 company Yellow Corporation doesn't just talk about Web services — it is in the forefront of deploying Web services and has already started reaping benefits from it. In my previous column, we looked at the business benefits Yellow has gained from its Web services deployment. In this column, we'll take a closer look at the technology itself, and the lessons Yellow learned from its deployment.
How the Web services work
To understand how the Yellow Web services work, you need some background about Yellow. Yellow Corporation is a Kansas-based holding corporation whose largest subsidiary, Yellow Transportation, offers a wide range of shipping services for moving industrial, commercial and retail goods. Yellow Corporation also owns Yellow Technologies, which provides technology solutions and services for Yellow Corporation companies, including Yellow Transportation.
Yellow Technologies built three Web services to help Yellow customers track shipments, automatically create purchase orders, and get rate quotes. All use similar architectures. In each instance, the Web service is in essence a front-end to an existing back-end system. This was one of the keys to the deployment's success: No work needed to be done on Yellow's backend systems, which saved a significant amount of development time and money.
The Web services are available via a single PC, so that an individual can use them, are also available via Java-enabled devices, and perhaps most important, directly from an application as well. That means that Yellow customers can automate the use of the Web services, and include them their own business's workflow. That saves the customers time and money, and for Yellow, it creates a tighter bond with their customers, so that cusomters will be more likely to ship with Yellow than with a competitor.
To get a sense of Yellow's overall Web services architecture, see the figure below.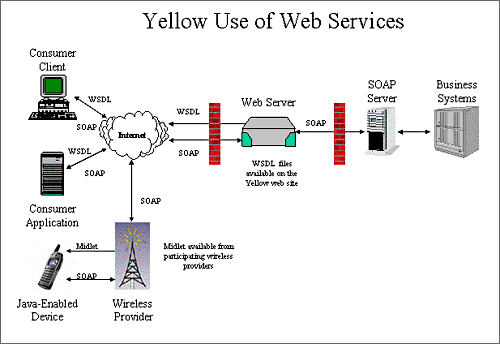 As you can see, clients, applications and Java-enabled devices such as cell phones all access the Yellow Web services over the public Internet. In the case of the Java-enabled devices, participating wireless providers offer midlets that allow cell phones and other Java-enabled wireless devices to access the Web services.
Requests from devices and applications pass through a Yellow firewall to access the WSDL files on the Web site that describe and enable the particular Web service being accessed. When data needs to be accessed for the Web services to function, another firewall must be passed through. A SOAP server communicates with the existing back-end business system. Information is passed back and forth with the existing back-end system.
Challenges Yellow faced
As you can see from the illustration, the implementation appears to be surprisingly simple. Pat Williams, Director of Enterprise Services for Yellow Technologies, says that a number of difficult challenges had to be overcome when building the services.
After building its first simple Web service for package tracking, using the IBM Web Services toolkit, Yellow found out that the product wasn't able to code for more sophisticated services. It moved to IBM WebSphere Studio, which solved the problem.
For wireless access Yellow had planned to use the Wireless Application Protocol (WAP) to allow wireless devices to access the Web service. But that proved to cause problems. The WAP implementation posed interface issues for users when they tried to enter strings of information. So the decision was made instead to go with a midlet solution.
Working with WSDL in general proved to be problematic. Yellow discovered that there are limited testing and verification tools for WSDL, and that creating WSDL files for complex interfaces is cumbersome.
They also discovered what many other enterprises find out when doing an implementation — that standards are often a moving target. A variety of Web service specifications were changing during the Yellow implementation, including SOAP moving from v1.1 to v1.2.
Lessons Yellow learned
Williams recommends that others building Web services work closely with business groups at their enterprises, to ensure that business needs and technology needs are aligned. In her implementation, the alignment was clear from the beginning, because she was using Web services to extend services that already existed, rather than creating them from scratch. But even though the project started out highly focused, "we talked to the business groups all the time about directions we should take," she says.
She recommends making sure to take the time to choose the right development and deployment tools, because that will save a great deal of time and effort.
One of her primary recommendations is that enterprises "keep an eye out on where Sun, Microsoft and IBM are headed" with their Web services efforts, to ensure that Web service development doesn't head down a dead-end path. And she also warns that companies should watch whether any of those companies may at any point start charging royalties for using their tools or technology, because that would cause significant economic problems to any company deploying Web services.
---
For related Webcasts:
For related Articles and Commentary:
---
About the Author

Preston Gralla, a well-known technology expert, is the author of more than 20 books, including "How the Internet Works," which has been translated into 14 languages and sold several hundred thousand copies worldwide. He is an expert on Web services and the author of a major research and white paper for the Software and Information Industry Association on the topic. Gralla was the founding managing editor of PC Week, a founding editor and then editor and editorial director of PC/Computing, and an executive editor for ZDNet and CNet. He has written about technology for more than 15 years for many major magazines and newspapers, including PC Magazine, Computerworld, CIO Magazine, eWeek and its forerunner PC Week, PC/Computing, the Los Angeles Times, USA Today, and the Dallas Morning News among others. As a well-known technology guru, he appears frequently on TV and radio shows and networks, including CNN, MSNBC, ABC World News Now, the CBS Early Show, PBS's All Things Considered and others. He has won a number of awards for his writing, including from the Computer Press Association for the Best Feature in a Computer Publication. He can be reached at preston@gralla.com.
---