Firebase, AWS and more: A comparison of five leading MBaaS providers
From new to experienced developers, everyone gets to choose from five of the best MBaaS providers to help with mobile app work. But how do you choose the right one for you?
Mobile is more than just the app. Modern apps are now comprised of many different services including APIs, push...
Continue Reading This Article
Enjoy this article as well as all of our content, including E-Guides, news, tips and more.
notifications, authentication, analytics, data and much more. Mobile backend as a service, also known as MBaaS, gives developers access to tools that can be used to optimize mobile apps in all of these capacities. And for those new to working with APIs and microservices, MBaaS can act as a great introduction to those things.
Currently, there are five leading vendors in the MBaaS space:
Amazon Web Services Mobile Services
Apple's CloudKit
Kinvey
Microsoft Azure Mobile Services
All of the MBaaS providers listed offer tools you need to make mobile development easier, but each has their own unique flavor.
Google's Firebase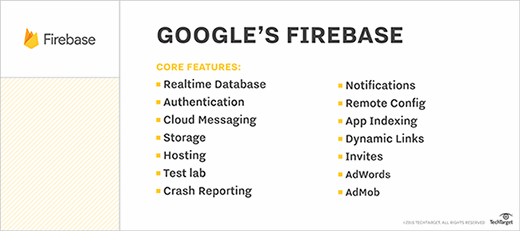 Google acquired Firebase in 2014. At this year's Google I/O conference, Firebase revealed the first major update to their core tools and services. While this all sounds good, there is still one burning question: How much do these services cost? On the whole, most of Firebases' services are free. The only services you will need to pay for are the Realtime Database, Storage and Hosting services. Firebase is a great place to start if you are new to MBaaS or working with MBaaS providers.
AWS Mobile Services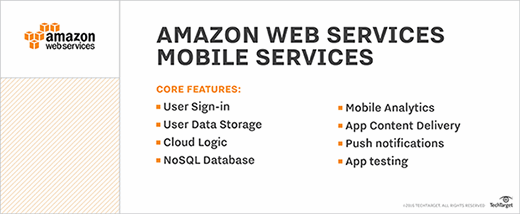 There is no doubt that Amazon Web services (AWS) is the granddaddy of cloud solutions. AWS Mobile Services extends the core cloud services to be mobile-specific.
Each of the services listed above is managed through the Mobile Hub. You will see that AWS does offer similar services to Firebase, however many of the services are focused on advanced app development. As such, AWS is not free and is geared more toward experienced mobile development teams managing apps used by scores of consumers.
Apple CloudKit

Apple's iCloud includes a set of MBaaS-like services specifically for Apple's iOS, macOS, web, watchOS and Apple TV platforms known as CloudKit. The ability for developers to build solutions with iCloud was introduced in 2014 and has consistently been updated. There are some significant benefits of using iCloud, such as support for one petabyte of free data. But the focus of the service has not wandered far from data storage and does not support competing operating systems such as Android.
With that said, iCloud is great for mockups and proofs of concept when working with a smaller budget.
Kinvey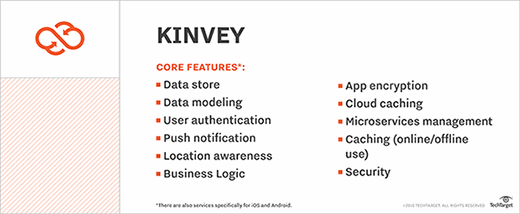 The service that aims to support the broadest number of platforms is Kinvey. Individual developers can start using Kinvey for free no matter what platform they are building for: Android, iOS, Xamarin, PhoneGap, Titanium or HTML5 are all supported.
In many ways, Kinvey is a nice blend of the services provided by Firebase, AWS and Apple. The things that separate Kinvey from the competition are the extensive tutorials and help docs. Kinvey's goal is to empower you to be up and ready quickly.
Microsoft Azure Mobile Services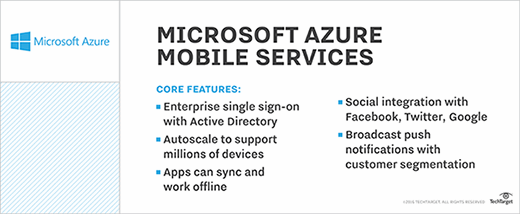 Not to be a left out of the fray, Microsoft is also engaging in the MBaaS market with its own tools. Azure Mobile Services competes closely with features from AWS. As you would expect, Azure supports authentication, database and push notification services. The challenge for Azure is the complex pricing model.
Bonus item: Parse

It should be noted that the market for MBaaS providers gained significant traction with Facebook's Parse. Parse is an open source solution that is very much still usable, but note that Facebook has stopped providing support for the project.