Evaluate
Weigh the pros and cons of technologies, products and projects you are considering.
Web Services
This chapter, excerpted from Professional Ajax, introduces you to the evolution of Web services and associated technologies such as SOAP, WSDL, and REST.

As a registered member of SearchSOA.com, you're entitled to a complimentary copy of Chapter of Professional Ajax written by Nicholas C. Zakas, Jeremy McPeak , and Joe Fawcet and published by Wiley Publications. " Web Services" focuses on technologies associated with Web services.
---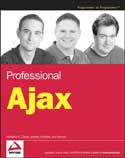 Book description:
Web services is an architecture allowing the transfer of data from one location on the Internet to another. This chapter teaches you how to create your own Web service using ASP.NET and C#. It delves into the concepts behind SOAP, REST, and WSDL and discusses their similarities and differences within the world of Web services.
---
Dig Deeper on Topics Archive