Evaluate
Weigh the pros and cons of technologies, products and projects you are considering.
Web Services: A Realization of SOA
Service-oriented architecture (SOA) represents an abstract architectural concept. It's an approach to building software systems that is based on loosely coupled components (services) that have been described in a uniform way and that can be discovered and composed. A Web service represents one important approach to realizing an SOA. This chapter focuses on Web services as a realization of the service-oriented platform and introduces the specifications that add to it.

As a registered member of SearchSOA.com, you're entitled to a complimentary copy of Chapter of Web Services Platform Architecture written by Sanjiva Weerawarana, Francisco Curbera, Frank Leymann, Tony Storey, Donald F. Ferguson and published by Prentice Hall. " Web Services: A Realization of SOA" focuses on SOA and Web services standards.
---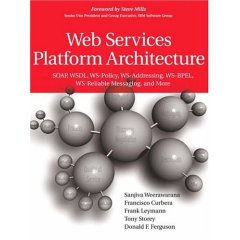 Book description:
"Web Services: A Realization of SOA" explains and defines the distinct differences and relationships of Web services and service-oriented architecture. This chapter focuses on specifications of Web services and introduces the latest terms and technologies that are based on and extend basic Internet standards. The descriptions are intended to be brief, but definitive in their place in the world of Web services.
>> Read Chapter: Web Services: A Realization of SOA.
---
Dig Deeper on Topics Archive